Here is the list of Digital Marketing Tools & Techniques
It's always great to find automation tools for your Digital Marketing tasks and there comes this curated list of 53 Digital Marketing tools and techniques you should learn from them in detail.
You can download PDF at end of the post
List Of Best Online Marketing Tools
1. Buffer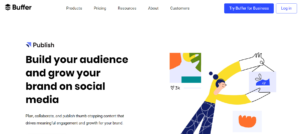 Price: Paid
Description: Buffer is a leading social media tool that can help you schedule posts, make decisions based on analytics, etc. Especially it's tough to plan and publish content on different social media platforms and this tool helps you do it in an easy way.
2. Hootsuite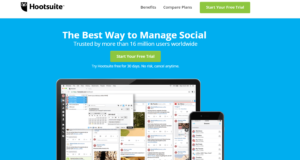 Price: Freemium
Description: Hootsuite is also a good social media management tool that can help you schedule posts, and plan the content on various social media platforms from a single dashboard. The best part is it offers a 30-day free trial and also a free plan. Try checking it out 
3. Tailwind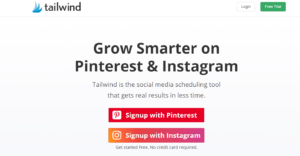 Price: Paid
Description: This tool is specially made for Instagram and Pinterest scheduling with many features such as hashtag suggestions for Instagram, analytics for pins, time suggestions for posting the content, scheduling the posts, etc all in one dashboard. The best part is this tool has a free trial as well. If you want to grow your Instagram and Pinterest followers then this tool might be a good choice.  
4. SocialBee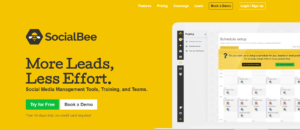 Price: Paid
Description: This tool can help you schedule posts on many platforms such as GoogleMyBusiness, Facebook, Instagram, Pinterest, Linkedin, and Twitter with friendly pricing for each plan to manage all these different platforms at a time. This tool has a free trial to test out the features.

5. Planoly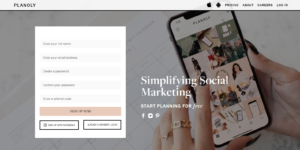 Price: Freemium
Description: This tool helps you plan the content for Instagram and Pinterest with special features. You can visually plan your Instagram feed, schedule the content, reply to the comments, and see analytics to understand your audience all inside this tool.
6. Meet Edgar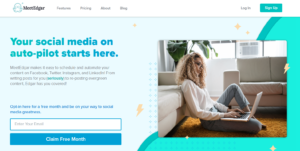 Price: Paid
Description: This tool helps you schedule, and plan your social media content. A unique tool called Smart Composer automatically writes status for blogs or articles by interpreting the content you have written saving time to write manually. The best part is this tool offers a free 30-day trial. 
7. Shorby
Price: Paid
Description: This is a tool especially useful for Instagram where you cant share clickable links in Instagram posts. This tool allows you to effectively use the Instagram bio link which helps you build mobile landing pages for your business.
8. Rite tag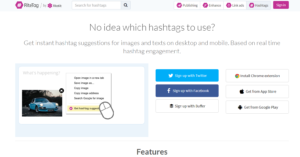 Price: Free
Description: Hashtags play a good role in reaching the audience interested in the products or services you offer. Rite tag helps you in doing the hashtag research and helps you publish the content with right hashtags finally reaching more people. It helps you find the hashtags which are trending or based on the image when you have no idea what to use.
9. Later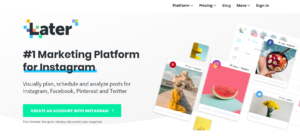 Price: Freemium
Description: This tool can also help you in scheduling content on various social media platforms. But specifically, this tool is quite useful for Instagram as you can visually plan your content on  Instagram and you can try using the free plan of this tool.


10. Sprout Social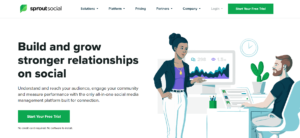 Price: Paid
Description: This is a social scheduling tool that has multiple capabilities such as All-in-one social inbox, social CRM and many special features apart from the regular social media scheduling capabilities. And you have 30-day trail as well 
11. Zoho Social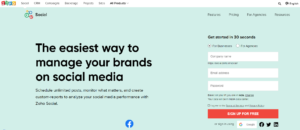 Price: Paid
Description: This tool can help you schedule content on various social media platforms with special features such as repeat posts, summary reports for your social handles, etc. This offers a free trial to know more using the platform.
12. Tweetdeck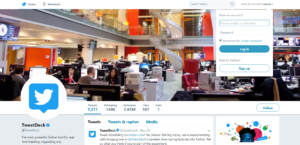 Price: Free
Description: Tweet Deck is a tool specially created to be beneficiary for Twitter users to reach more audiences using the platform. You can use it as a web app or browser extension as well. It's similar to other social media management tools but dedicated only to Twitter where you can monitor every aspect or action on your Twitter account and switch between various Twitter profiles.
13. Hashtag Stack

Price: Free
Description: HashtagStack lets you find hashtags in the niche/topic you want. You can also analyze the average engagement rate posts are receiving on using a hashtag. The best thing about this hashtag tool is that it is free, no sign-up is required, and no other barrier to starting using it.
14. Crowdfire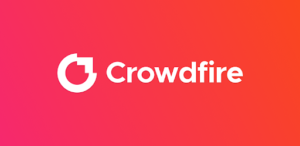 Price: Freemium
Description: Crowdfire is a multipurpose tool that helps you in finding inspiration for your next content piece, Schedule posts for different social media platforms and also helps you in analyzing KPIs for your social media.
This tool does have a free plan but to take more out of this tool, you have to upgrade to its paid plans.
Heat Map tools List


13. Lucky orange
Price: Paid
Description: Lucky Orange is a good heat map tool to analyze the user behavior on your landing pages and optimize your campaigns. You can check the recorded sessions and change the things on your landing pages to improve the performance of your campaigns.
14. Hotjar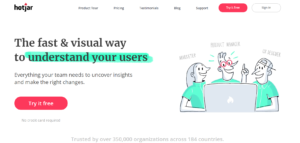 Price: Freemium
Description: This is an old reputed heat maps provider which is quite useful for optimizing the websites as per user behavior in the recorded sessions of the website. When you analyze the user behavior in the right way then you can generate good revenues from the websites.
15. Capturly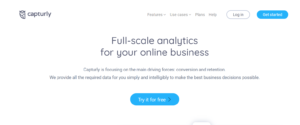 Price: Freemium
Description: Capturly is a heat map that has additional features such as custom tagging, and email tagging. Using these features you can understand the behavior of the audience at a deeper level and optimize the funnel accordingly to drive more customers.
16. Full story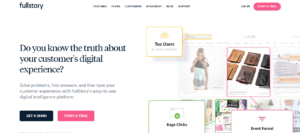 Price: Freemium 
Description: The full story is an advanced heat map tool that can help you understand the trends, segment the replays of recorded sessions based on a specific action the visitors make such as clicking on an element, etc, and segment the users. It also has special features such as frustrating signals which helps you understand why and where you are losing customers
17. Inspectlet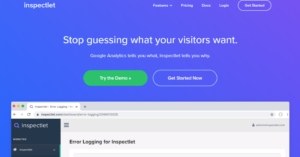 Price: Freemium
Description: This is a heatmap that allows you to see the recorded sessions of user behavior on your website. Also, it allows you to A/B test the visitors on your site, track the funnel conversions, and much more. This tool has a free plan to test various things.
SEO tools


18. Google Search Console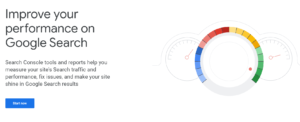 Price: Free:
Description: This free tool by google helps you a lot in optimizing the website for search engines. Especially you can submit your site, check crawl errors, the position of your web pages in the search engine results pages, etc. You can optimize your content based on the impressions you are getting for a particular keyword and update your content with the keywords to drive more traffic from search engines.
19. Semrush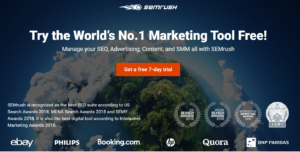 Price: Freemium
Description: Semrush is one of the finest SEO tools suite where you can do keyword research, set up position tracking for various keywords. Just using the keyword overview feature you can check many things such as phrase match keywords, related keywords, CPC, trends, search volume, etc which are essential to select keywords wisely. It's one of the reliable paid SEO tools suites with a free plan available.
20. Moz Pro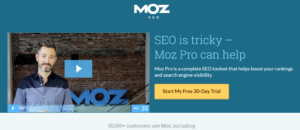 Price: Paid
Description: This is one of the oldest and most reliable all-in-one SEO toolsets which can help you do many things such as finding the keywords, analyzing the backlinks of a website using the link explorer, etc. With Moz, you can perform site audits, setup rank tracking for your keywords, etc which can help you gain much organic traffic from the search engines. There are even some free tools by Moz which are quite useful as well.
21. Ahrefs

Price: Paid
Description: This is a suite of SEO tools that can help you find new content ideas, perform keyword research and analyze the keywords, check backlinks, and perform SEO audits. You can analyze the website by putting in the domain name such as how much traffic it is getting, from which countries, whether it's organic or paid. It also provides the domain rating, URL rating, and keyword density metrics which are reliable in choosing the best SEO Marketing Strategy.
22. Majestic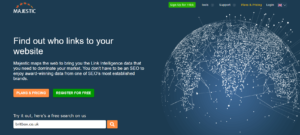 Price: Paid
Description: This tool is old but reliable for building an effective backlink strategy to rank your web pages higher in the search engines. It has a big database of links that provides you with two important metrics namely trust flow and citation flow which are valuable to analyze the backlinks of your competitors and build your backlink strategy.
23. Mangools Tools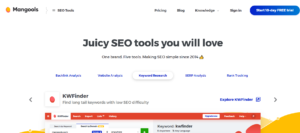 Price: Paid 
Description: Inside the Mangools, there are many tools such as KW finder, SERP Watcher, Link miner, SERP Checker, Site Profiler. For keyword research KW Finder gives us the ability to filter keywords based on location, language and provides the data of a keyword such as a search volume, CPC, every month search stats which makes it a fine tool to choose the keywords. It offers a 10-day free trial which you can use to test the tool.
24. Ubersuggest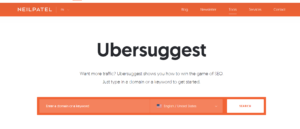 Price: Free
Description: Using this tool you can find the related keywords, the backlinks of a website, traffic estimate, difficulty for a particular keyword, CPC's, etc. The data can help you get an idea of the keyword and its a free tool to use as well.
25. SERanking

Price: Paid
Description: SERanking is another useful tool to help you in Search Engine Optimization with special features such as marketing plan, keyword grouper, etc. And also a special it also gives you the ability to schedule your social media posts and check the analytics making it all-in-one marketing tool needed for any business.
26. Google Trends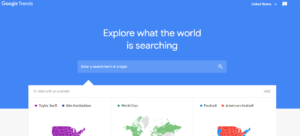 Price: Free Description: This tool by Google helps you in identifying the trends for a particular topic in a specific country. You can see the popularity of a keyword over a period of time and compare it with other keyword trends which are quite helpful in the SEO strategy plan.
27. Keyword sheeter

Price: Free
Description: It's bulk keyword finder where you just need to enter the keywords manually and it will start fetching all the related keywords with CPC and volumes. The best part is you can apply filters based on keywords whether to have them or not in the related keyword phrases fetched. You can just export all of them into a sheet for further analysis.  
28. Ask the Public
Price: Freemium
Description: When you are out of content ideas then this tool can help you by showing the different kinds of variations searched by people in the search engine. You just need to type a keyword and it will show all the related questions generally searched by people. So you can list them out and create content based on the keywords.
29. SEOptimer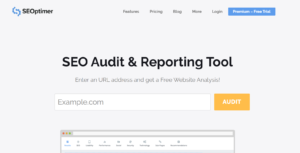 Price: Paid(Free SEO audit)
Description: One of the best tools to perform an SEO audit for your website that too free of cost. It crawls your website and makes suggestions on various factors such as ALT tags,robots.txt etc which are quite helpful to make your website search engine friendly. It also has a paid version which suggests you the keywords etc 
30. Soovle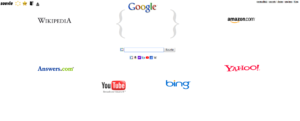 Price: Free
Description: This is a special keyword tool that helps you check the related keywords on various search engines such as Amazon, Wikipedia, Yahoo, Google all the same time and you can export them in an excel sheet.
31. Keywords Everywhere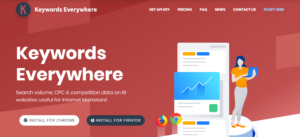 Price: Paid
Description: This is mostly used as a browser extension which shows the search volume, CPC of a keyword automatically below the search query saving you a lot of time to manually check the details of a keyword in any keyword research tool. This also suggests other related keywords along with their search volumes so you can filter some keywords and do more analysis on them for the SEO strategy.
32. Screaming Frog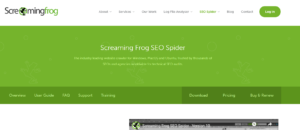 Price: Freemium
Description: Screaming Frog is a software to be installed on your computer and crawls your website to check various factors that contribute to SEO such as On-page factors, technical SEO factors, etc which help you in optimizing the website. 
Marketing Automation Tools
33. IFTTT

Price: Free
Description: This is a free tool available as a mobile app to do simple automation such as social media posting, creating blog content backups to google drive, etc. You just need to make a recipe(also called applets) and set the triggers to automate the process.
34. Zapier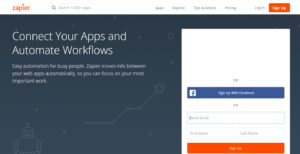 Price: Freemium 
Description: This is a powerful marketing automation tool used widely to connect, exchange data between various apps and tools used for various marketing purposes such as email marketing, messenger marketing, lead generation, etc. There are 100's of apps that can be interconnected because of the Zapier integration. You just need to create a zap for each purpose where you can define the action to perform based on a trigger.
35. Integromat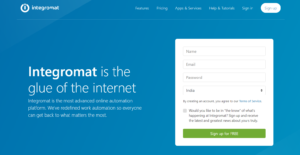 Price: Freemium
Description: This is another alternative for Zapier where you can create powerful automation flows to connect various marketing tools and automate your marketing needs. All you need to do is to create a scenario choosing the modules and activate it after building it.
Messenger Marketing Tools
36. Many Chat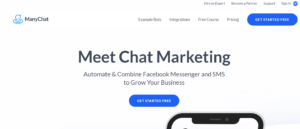 Price: Freemium
Description: Messenger marketing is a great way to interact with your customers as there millions of messenger users. Using Many Chat you can nurture your subscribers, broadcast your offers, collect the leads and connect with various other marketing tools to improve your business. The best part is that there is a free plan as well.
37. Mobile Monkey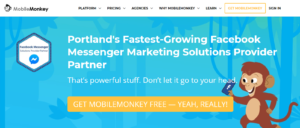 Price: Freemium
Description: Mobile Monkey is another messenger marketing tool founded by Larry Kim that has all the necessary features to setup good messenger bots driving more sales and revenue for your business. This also has a free plan.
38. Chat Fuel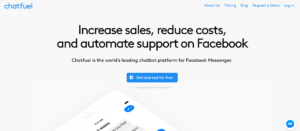 Price: Freemium
Description: Chat Fuel is a great alternative to many chats and has many messenger marketing capabilities to successfully utilize messenger marketing strategies and generate sales. This also has a free plan.
Youtube Marketing Tools
39. Tubebuddy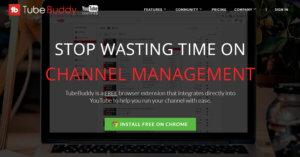 Price: Freemium
Description: Tube buddy helps you in enhancing the ranking of your Youtube Channel videos in the search results compared to the other channel videos. There are millions of active viewers who watch youtube videos on a daily basis. It suggests the necessary tags you need to add to your youtube videos etc and help you gain more viewers.
40. Vid IQ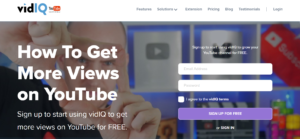 Price: Freemium
Description: Vid IQ is a suite of various tools that help you gain more views and subscribers for your youtube channel. It helps you identify manage your comments, check the analytics of your channel, etc. And the best part is there is a free version to use. Just install the chrome extension on your browser and sign in with your channel account 
Facebook Ads Spy Tools
41. PowerAdspy
Price: Paid
Description: This tool helps you to check various details about your competitor's ad strategy and spy their ads. You can use it to know what kinds of ads are being run in a particular niche just using various filters provided. It also provides you the database of facebook and Instagram ads run by any company page in the past.
42. Adspy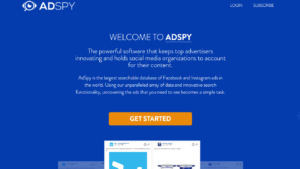 Price: Paid
Description: This also another spy tool to learn more about the performance of ads based on the number of views, reactions a particular ad creative got and you can check based on various filters like keywords, dates, country, etc. 
43. AdSector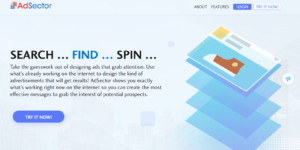 Price: Paid
Description: This also has a database of Facebook00000000000 ads that you can use to research trending products for dropshipping, eCommerce, know what campaigns are performing well, check the landing pages URLs of the ads, time frame of the campaigns and many more.


Email Marketing tools
44. Mailchimp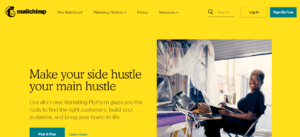 Price: Freemium
Description: This is one of the oldest email marketing tools used by many marketers which has many advanced email marketing capabilities such as behavioral targeting, segmentation, retargeting ads, etc which help you in setting up email marketing on autopilot mode generating sales.
45. Convertkit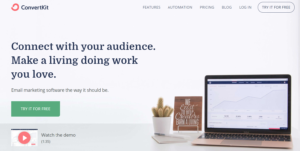 Price: Paid
Description: Convertkit offers special features such as landing pages for lead generation, email templates, etc to save your time and money in the process of sending marketing emails. It also helps you in segmenting the audience, A/B testing of email subject lines and deep insights on the subscriber's behaviors.
46. Mailerlite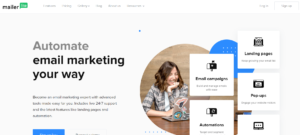 Price: Freemium
Description: Mailerlite is a freemium email marketing tool that has an inbuilt HTML editor, Photo editor, Landing page, etc. It also has advanced features like segmentation, tagging, A/B testing to send more personalized emails on automation. The best part is that it has a free plan.
47. Drip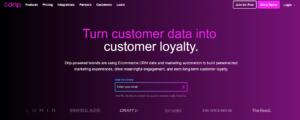 Price: Paid
Description: This is a powerful email marketing automation tool where you can set up very advanced automation such as webhooks, tags and sending the emails to the subscribers based on those triggers. Especially if you are into E-Commerce you need to send cart abandonment emails etc to convert the customer as soon as possible and generate a sale.
48. Active Campaign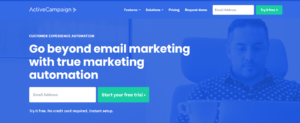 Price: Paid 
Description: This is an advanced CRM that has special features such as lead scoring which enables you to segment and email the most score having subscribers ultimately leading to more conversions or sales from email marketing. Not just email you can also do SMS marketing directly from the dashboard.
49. Aweber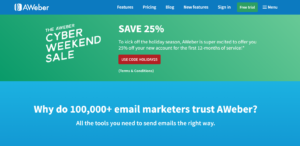 Price: Paid
Description: Aweber is also an email marketing tool that can be integrated with various platforms such as Paypal, Shopify, etc to benefit your business using email marketing. You can send targeted emails to your subscribers based on the segmentation etc.
50. Constantconnect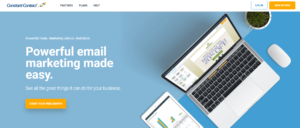 Price: Paid
Description: Constant Connect is a decades-old email marketing tool in the market with features such as landing pages,woocommerce integration, drag and drops editor to customize the email templates which render good even in mobile devices. You can automatically manage the subscriber's lists and send the emails on automation.



Video Editing Tools
51. Adobe After Effects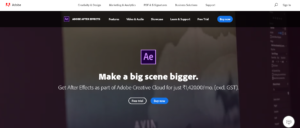 Price: Paid
Description: Adobe After Effects is a good tool to add professional effects to your videos. It is used to create motion graphics such as animations, visual effects like lighting, etc to enhance your videos and make them more converting for marketing purposes.

List of 9 Bonus Tools
52. Canva
It is a freemium tool used for editing and graphic designs.
53. Todoist
It is mainly used for managing your regular task related to your task
54. Yandex Metric
It is basically a free tool for Heatmap
55. Jing
It is a free tool used for taking screenshots
56. Filmora
It is one of the best video editing tools majorly used by YouTubers
57. Brand 24
It is a tool for monitoring social media when people monitor you or mention you.
58. SocialBlade
It is a tool helps you to evaluate your performance.
59. Buzzsumo
It is a powerful tool that allows a user to find out what content is popular by topic or on any site.
60. CrazyEgg
It is a tool that provides you with Eye Tracking Tool Such as Heatmap.
Final Words
If you liked those best Digital Marketing tools and techniques above, please share this post among your peers to master all those tools like a pro and wanna become a Digital Marketing Professional then you need a digital marketing course in Noida from us which teaches you everything about Digital Marketing in deep.
Do also suggest more tools you love to add to this list via our comment section.