What are Social Media Tools?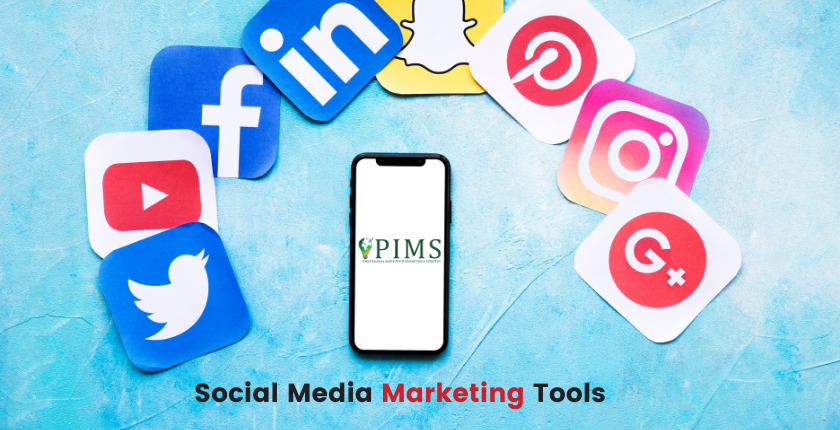 The world has evolved into a global village as communication has grown more effective than it used to be. There are many ways to communicate with people around the world today, and the technology is constantly developing; it's hard to determine a specific number for them. The most prominent ones are well-known and have a lot of resemblances. Because everyone is on the internet, marketers, and brands are beginning to pay attention to the online market.
With this in mind, and as there are many growing social media platforms to post to, a social media management software such as Social Champ has been introduced to help you get your work done and allow you to take breaks. Social media scheduling tools can make your life simpler by helping you manage your regular tasks.
Social media platforms offer new ways to conduct business, create consumer bases, market products, and most importantly grow your social media. 
Social media marketing tools aid in scheduling your posts on different platforms. They also assist you in analyzing which channels you could get the most traffic and which posts received the most response from the people who read them.
These tools make the job simple, efficient, and productive since tools for automation of social media can run campaigns effectively on their own.
Our Social media certification training in Noida is designed to help you build the skills required for social media marketing by giving opportunities to practice extensive project experience.
Uses of Social Media Marketing Tools
Multiple accounts:

It is possible to manage various social media accounts on one platform.

Team collaboration feature:

It allows for the addition of multiple team members to collaborate with the duplicated accounts.

Analytics:

You'll be able to receive detailed analytics reports on your social media usage.

Monitoring:

You can monitor keywords and other accounts' hashtags, etc. Anything related to your field.

Scheduling:

It is possible to plan posts to be scheduled for times when you aren't able to go online.

Grow Social media: You will be able to handle and grow social media in a better way from the social media tools.
Use Social Media Tools for Better Marketing Strategies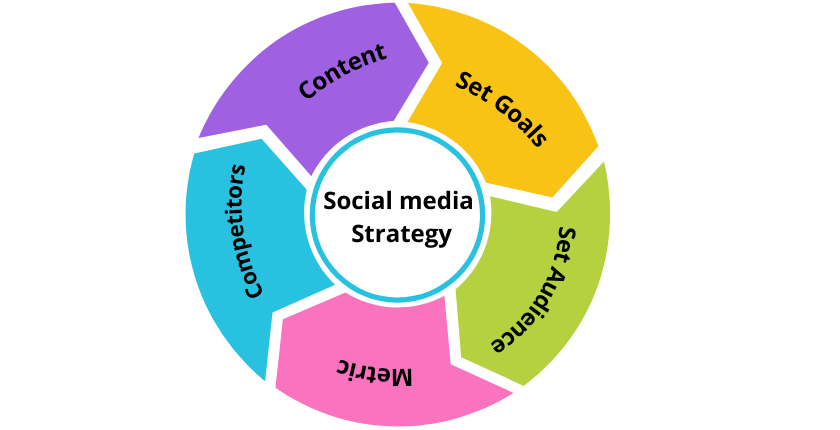 Social marketing on the internet is all about staying authentic to your brand and telling your customers the value of your brand by engaging with your followers and how your customers will be benefited from social media metrics.
A lack of an effective social media marketing plan in 2022 is a complete omission. It is essential to improve your digital marketing strategy to ensure development and lead generation to ensure more results. Brands require a strategy for the digital world to keep up with the marketing movement. 
Here's everything you need to know:
Set Goals
It is crucial to determine the number of things you have to do with your brand's image on the internet. It is also essential to determine social media's impact on your brand.

Do you think it's brand awareness? Is it a greater amount of sales? Do you have an enduring customer base? Are you maximizing your return on investment?

Before you start, the elements you should think about to ensure that all your efforts are directed toward this goal.
Audience
One cannot know the kind of audience they might reach!

You require a thorough investigation of your customers.

What age range they are in, What time of the day they are the most active, what location reaches your ideal group, how many are willing to pay for your product, and so on.

You have to be aware of this before launching any online campaign.
Metrics
The data needs to be recorded. It is the norm for a long length of period. Every interaction type is recorded, and the best campaign from each of these is picked. The one that can aid in promoting the product more effectively.

You must record all the key performance Indicators (KPI) like the number of clicks, reach engagement, hashtags, organic likes, or paid shares to boost your social media presence.
Competitors
You must be aware of what your competition is doing. It doesn't mean you should copy them at all

It is essential to study how the company's employees interact with its audiences. This will assist you in adjusting the methods they employ and could be helpful for you!
Content
When you

create content

that conforms to all social media standards, it is interesting enough to entice viewers.

Visual or textual Try to adhere to a common theme across all content. This ensures consistency across all platforms.
Why Should Businesses Use a Social media Tool?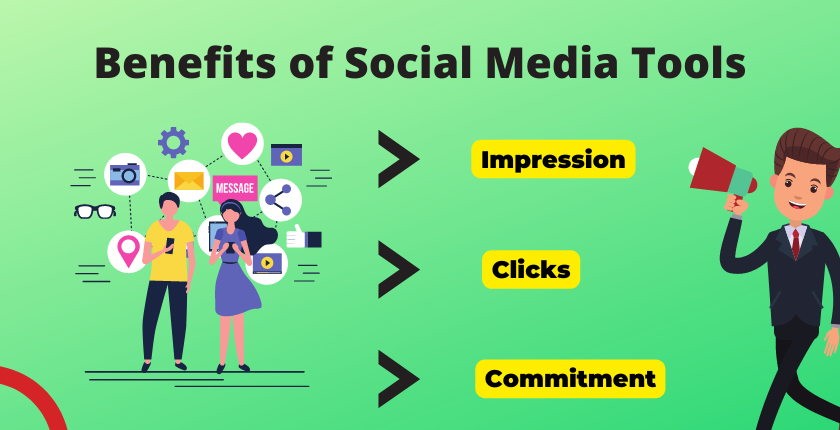 Here is a list of reasons why you need social media management for your business by eclincher.
Companies also want to be on the internet because their customers want access to convenience and easily view irrelevant items. There are a variety of online platforms for brands currently; if they don't, they're being left out of opportunities!
Brands and businesses are online and have to be on the lookout. They won't be aware of what their competitors are up to and will not compete in their marketing. Therefore, they will need automation and social media manager applications!. These social media applications or tools help companies to schedule and manage social media calendars. Social media strategy would not work until its analytics are done properly. 
Here are a few benefits and the main reasons to make use of social media tools for marketing.
Impressions
Reach of a post is defined as the number of clients that have seen your blog post. What is the extent to which your product is getting out there across social media? Does it reach the clients' feeds? The next spread is more evident than any previous time in recent memory, despite constantly altering natural calculations.
Clicks
This is the number of people who click on your website and your company's name, product, or logo. Connection clicks are vital to understanding how customers move through your showcasing pipe, and the tracking of clicks per campaign is crucial to understanding the factors that drive people to buy.
Commitment
The number of times you've viewed a post is not the entire amount connected to social networks. In terms of engagement, it's connected by observing those who interacted or collaborated, and in the unlikely event, there was a substantial portion of your reach. This gives you a better idea of the way your audience perceives you and their capacity to work together.
20 Best Social Media Tools for Small Businesses!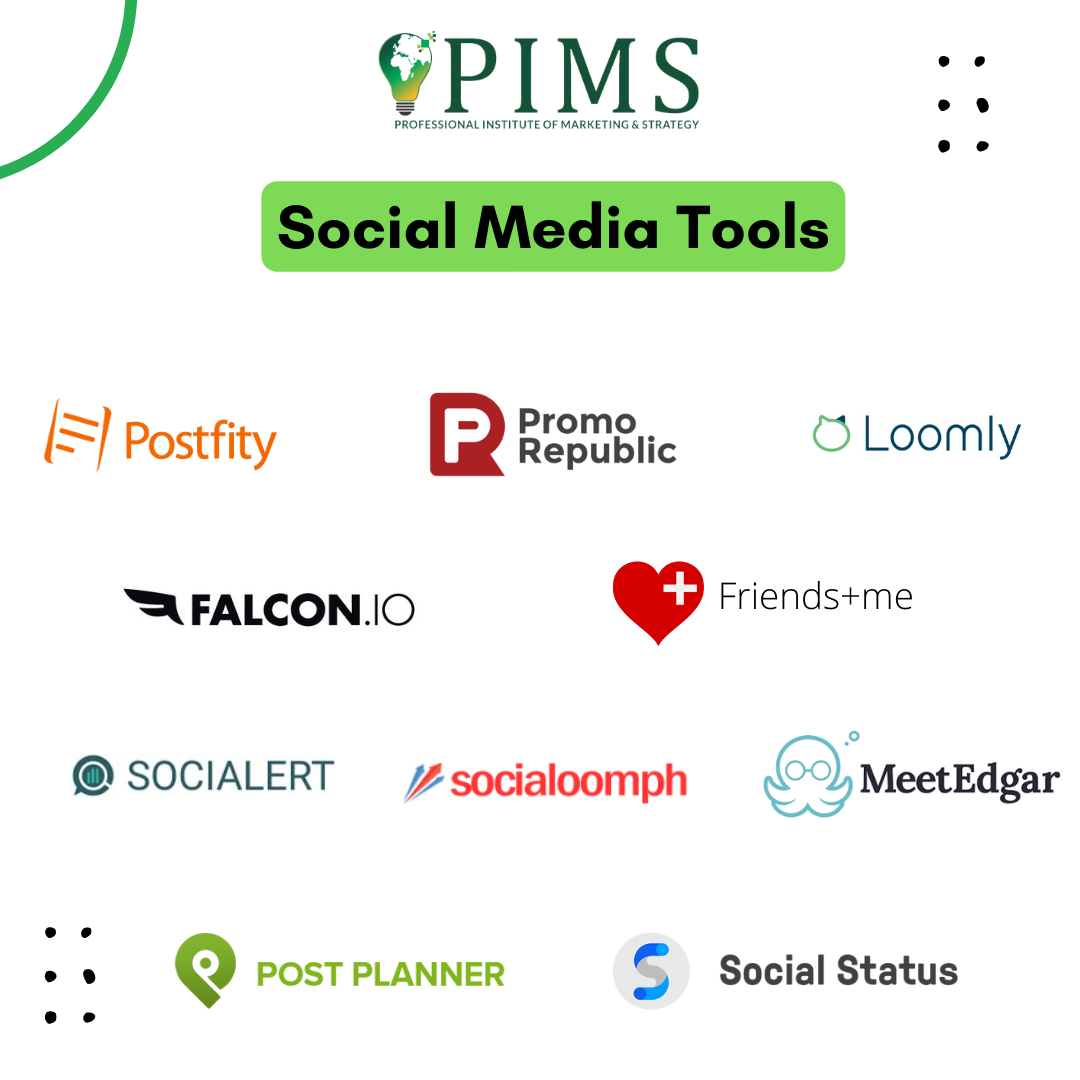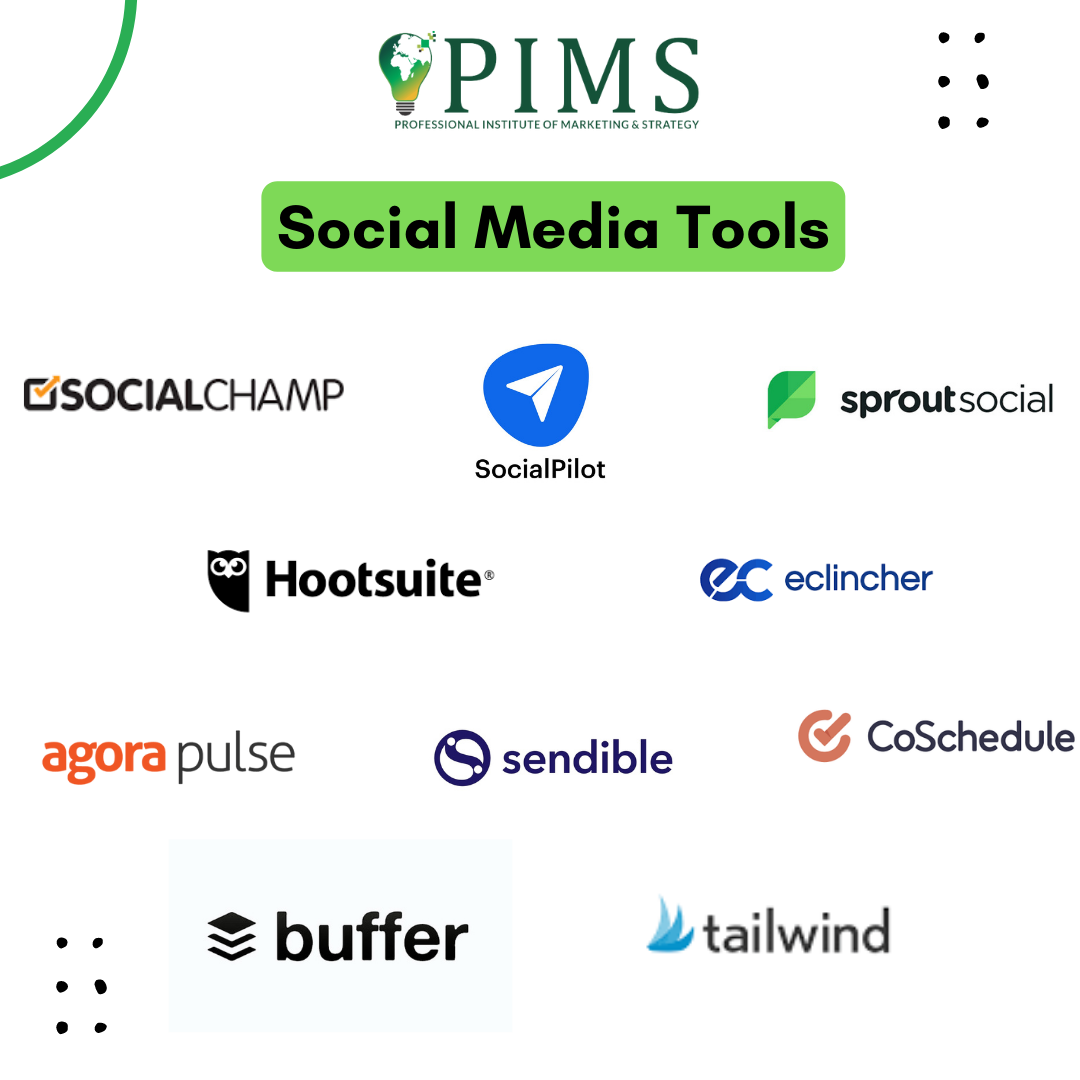 With the growth of social media platforms, there are huge and minor players of Social Media Tools for marketing with various capacities and fortes, which means there's something to suit everyone. Here is the list of best social media tools you can use : 
Falcon.io
Social Champ
Social Champ is a well-known and sought-after option that you can use to schedule your social media posts to automate and monitor the challenges. With the help of the seek stream, you can efficiently build a network of fans using this tool for marketing on social networks.
 Social Champ is an online social media scheduling and management software that can help you distribute your content across various social networks simultaneously. It can "help users and brands to increase their audience reach by 75%. "
 If you're new to automation tools and are looking for an easy-to-use user interface to help promote the content you publish, Social Champ is the ideal choice for you.
Buffer
A lot of marketers have utilized Buffer for a long time. It allows you to add your posts to the queue swiftly and then plan them for different platforms. Buffer has divided its products into three categories. Publish, Reply, Analyze. You can choose which strategy best suits your needs based on your specific marketing requirements. It also works as a social media scheduler and analyzer. 
Buffer recently launched the ability to incorporate the first comment in any scheduled Instagram posts. A majority of the advanced features that third-party tools integrate buffer offer.
Hootsuite
Hootsuite allows businesses to monitor their clients ' preferences and analyze the sentiment of their customers and their interaction with their brand. It is one of the most trending social media management software. It is crucial to dispel any customers' misconceptions about their brand. Hootsuite does a fantastic job in providing lots of functionality for features within an extremely simple and easy-to-learn user interface.
 Although it can be costly if you go over certain limits, it's worth seeking out small-business online marketers.
Social Status
This is one of the Social Media that helps automate social media reporting by executing a thorough review of your accounts. Social Status offers four levels of analytics: advertising, profile, competitor, and influencer. The tool also creates specific reports for each of these four levels. The tool is compatible with Facebook, Instagram, YouTube, and Twitter.
eClincher
Another tool to publish information is eClincher. It aids you with publishing engaging, listening, and analytics. eClincher is said as being "perfect for businesses, brands, and agencies." eClincher allows for Facebook, LinkedIn, Instagram, Pinterest, and YouTube. The process for scheduling is straightforward, and all you need to do is select your accounts and then enter your posts.
SocialPilot
SocialPilot oversees social media, it schedules social media posts that increase engagement and analyses the results. Socialpilot can also facilitate bulk posting on various social networks. The bulk scheduling template could be complicated for those who don't have previous experience with bulk scheduling. SocialPilot provides comprehensive statistics on multiple platforms.
SociAlert
SocialAlert is a tool for tracking that helps you monitor the performance of your keywords, hashtags, and social profiles. If you're looking to cut through all social media noise and concentrate on the effectiveness of your hashtags and keywords, Social Alert is the instrument for your needs. Hashtag tracking is an excellent way for startups to expand their online presence and reach a larger audience.
Utilizing relevant keywords related to your industry You can use this tool to increase the reach of your posts via social media. It generates reports on the number of posts that have been shared, the number of impressions, users reaching, and the most popular mentions. This will assist you in making your next campaign marketing a successful one.
CoSchedule
Coschedule is affordable and simple to use, a scheduling tool that is easy to use, saving you time and time-consuming effort. Instead of committing time to post every day, plan every post for weeks, months, or years all at once. This is ideal for people who have never utilized an automated tool before. 
The Coschedule watermarking feature, the bulk upload, and collaborative capabilities make enhancing every blog and event more manageable. It assists in reducing the workload and increasing engagement. However, Coschedule's Chrome extension and mobile app offer restricted access to the overall capabilities. 
Sprout Social
Sprout Social is a social media management software used to manage and assist you in finding solutions to the problems you face with social media and improve your connections to your brand's followers. It lets you manage and control social media posts across multiple networks, platforms, and campaigns from one central location. 
It's a great solution to aid businesses' strategic decisions using your analytics and social data. While Sprout Social is an all-in-one automated tool, it can be pretty costly in the case of a startup with a minimal budget! 
Sendible
The Sendible tool can be described as a social media tool that includes many valuable tools to help you manage your social media marketing campaigns. It helps increase communication and collaboration in scheduling and approving content. If your company includes clients in your business, you may use advanced reporting and depth-based insights using Google Analytics. Google Analytics integration to show them the results.
Sendible includes about 20 integrations to crucial social media platforms, blogs forums, and Slack. Its user-friendly interface is simple to utilize, and scheduling for bulk tasks can be accomplished using a CSV file. The program also comes with built-in content libraries and accessibility to Canva.
Tailwind
Tailwind will be an auto-planning and research device that is awe-inspiring for Pinterest. It can suggest the most effective times to publish to your network of followers. In addition, they offer schedule options only that are available for Instagram and Pinterest.
Post Planner
Post Planner helps you discover the contents and schedule of automated posts on social media for the social networks you use. They provide support for all of the most popular online social networks.
MeetEdgar
MeetEdgar can be described as an SMM tool ideal for small companies and entrepreneurs. It has features to schedule and organize content for automated publishing, and the software supports different networks and permits users to reuse previously published content.
PromoRepublic
PromoRepublic is among the tools for social media marketing for freelancers, influencers, and small companies. They offer options for editing photos as well as collaboration and scheduling. PromoRepublic should be among your top choices for valuable tools if you run a local business.
Friends+me
Friends+me offers almost all the features that a media manager could require when managing different pages. They also offer the ability to bulk upload content, create content, and customer support.
Postfity
Postfity is a marketing and social media tool that works with Facebook, Instagram, LinkedIn, Twitter, Vkontakte. In contrast to other SMM tools, their interface is simple to navigate, and they provide outstanding customer service.
But, these do not have limited connections to social networks.
Loomly
Loomly integrates with various social media management tools, including Slack or Microsoft Teams, an added benefit. However, Loomly is on our list because of its branding and creation of content features.
SocialOomph
Social Oomph began as only a marketing and automation tool, referred to as TweetLater. But, as they saw the potential and necessity for additional tools, they added other social networks into their system.
Agorapulse
Agorapulse offers an SMM tool that businesses of any size can use. It is among the oldest and most widely used Social Media Marketing tools. It has all the features that an SMM manager could require, like an inbox, a scheduler inbox, and the social media calendar.
Falcon.io
Falcon.io provides a cloud-based platform to help you market your business using social media. They offer solutions for solopreneurs, entrepreneurs, marketers, and agencies. Two of their most essential highlights (or stars) are a visible calendar and an auto-queue feature.
Learn Social Media Marketing
PIMS offers a complete social media mastery course, where you can learn about various social media tools and social media marketing strategies. The courses are designed using the most recent industry knowledge that incorporates up-to-date research and provides a complete education for children to become experts in Social Media.
Q. What's the most productive Social Media tool for 2022?
Whether it be 2020 or 2022. The game has changed to adding new features each day, and keeping this in mind; the list of top Social Media Marketing Tools will look like this:
Social Champ

Buffer

Hootsuite

Agorapulse

SproutSocial

Coschedule

SocialPilot
Social Champ monitors your analytics, corrects reports, and aids in downloading a white-label PDF report. The list is as follows::
Social Champ

Hootsuite

TweetReach

Brandwatch

If This Then That (IFTTT)

Buzzsumo

Twazzup