Make Learning a Part of Life
"About 7% of India's workforce will need digital skills training in next year"-Report by, Building these essential Skills for changing workforce prepared by Alpha Beta and commissioned by AWS. 
By analyzing the statistics of the above report, digital skills are expected to be in high demand for any businesses starting from healthcare to agriculture, fintech to media, fashion industry to entertainment industry".
Now, the question arises :
" Are you aware of the digital skills trend for 2022 and beyond? "
" Are you among the ones who want to excel in life? "
" Do you want to live a life of financial freedom in terms of time and work from anywhere? " 
The answer to all the above questions & to adapt to the rapidly digitized and dynamic world people need to keep in mind is lifelong learning and being updated with the latest job trends 2022 and digital skills.
What are Digital Skills?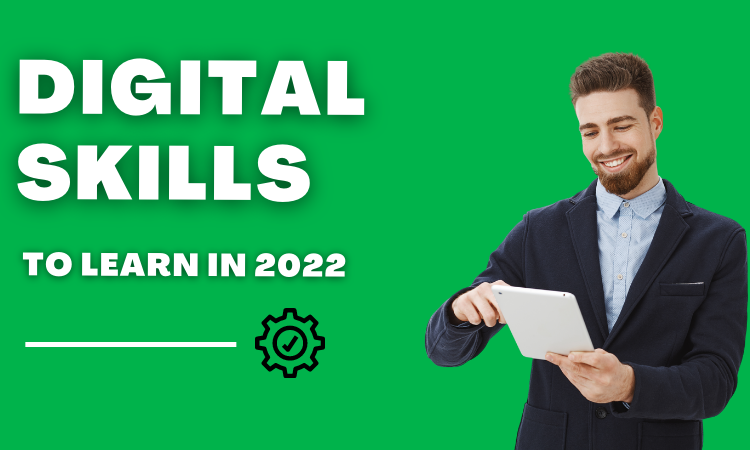 Digital skills are the skills that need electronic devices, communication applications, and different sources of networks for any action to be performed and managed online.
According to the UNESCO Report (2017), the term digital skill refers to a variety of abilities which include knowledge, critical understanding, digital skills, and competencies. These skills and competencies are interconnected and must be developed and refined according to individual and professional circumstances.
Digital skills are important to study in this fast-evolving digital world. Having the strong skill set and confidence to apply them practically can help you to become more profitable, efficient, and sustainable in any condition of life.
Learn digital marketing skills through the courses
Learn Digital Marketing skills by enrolling in the most comprehensive Digital Marketing Course In Noida. You will learn how to plan, execute and evaluate digital skills and make Digital marketing as a career and get you on top.
Learn digital marketing skills in an offline mode
Nowadays every business must be digital today in order to succeed. By learning digital marketing from the Digital Marketing Institute In Noida, you'll master the skills which are necessary to become a successful digital marketer. Learn more about marketing objectives and terms, customers' journey, marketing channels, content strategy, all domains of digital marketing (SEO, social media marketing, email marketing, etc.), and more.
Job Trends in 2022 and coming years
The hiring outlook for permanent positions employees has seen changes recently after covid 2019. The level of volatility and new variants in job trends 2022 has continued to emerge and this has caused workplaces to adopt different types of job trends mentioned below.
a) Hybrid Job Trend 
The hybrid work job trend in 2022 is a new working model in which employees can work from different locations and have the ability to change the work environment depending on the company rules. The hybrid model combines on-premise and remote models.
According to the economics times of India Companies such as Ceat, Tata Steel, ITC, Mahindra Finance, Thermax and Forbes Marshall have allowed flexible work options including hybrid working involving two-three days of work from the office and rest remotely.
b) Permanent Work from home
Permanent work-from-home Job trends 2022 and beyond will let you work from home. This allows you to work outside the traditional office setting method. Employees often require an internet connection to collaborate and network with the use of technologies.
Till now companies like Shopify, Slack, Dropbox, Twitter, Upwork, Tata Steel, and Quora have adopted permanent work-from-home culture.
c) Permanent work from the office
This is the traditional way of working for employees wherein they have to attend the office as per the working hours decided. This can also be referred as where the business professionals and organizations have to work in an architect's office.
But, this culture has also reportedly had adverse effects too after the pandemic.
According to the studies, Over 800 WhiteHat Jr employees have reportedly quit the edtech start-up after being ordered to work from the office as reported by Inc42.com.
Moreover, In March, CEO Tim Cook outlined a plan to have Apple employees who had been working from a home return to the office, but this was too questioned and Apple employees demand more flexibility from the company as a three-day office.
d) Optional / Work from Anywhere Job Trend
This Is the Future of Remote Work In 2022 and beyond. The latest job trend of working according to flexibility signifies an increment in employees' and employers' benefits. Google Trends, an online tool that analyzes the popularity of search queries on Google, shows a huge increase in the number of searches for the keyword phrase "remote jobs" since March 2020. In October 2021, the term generated approximately 300,000 searches in the United States — its highest level of interest since the data was first tracked in 2004: from October 2019 to October 2021, searches for "remote jobs" on Google have increased by a staggering 107%. This clearly shows an answer to the question in everyone's mind "Do we really need to be together, in an office, to do our work?" 
"By 2025, an estimated 70% of the workforce will be working remotely at least five days a month-FORBES"
Top most important digital skills to learn in 2022
Mastering the art of digital skills is a combination of practical skills and sales experience. To learn and explore how to engage with potential buyers as a person, you can learn digital marketing from PIMS Digital marketing training in Noida. The skill of selling to customers when they really do not need the product or service is considered the most important digital skill of all. 
We have researched every possible benefit of digital skills out there to compile a list of the top in-demand skills so you can find your ideal ability to excel. Let's look over some of more top digital skills that one must learn in 2022.
1. Digital Marketing Skills
Digital marketing is no more different than marketing, given that the communication is online. Digital marketing resounds best with people by not only conveying to them or requesting that they buy the product or take service from you, but, it's the structure of trust so that when the opportunity arrives for them to settle on a choice, they energetically pick you.
Explore more about the course structure: PIMS Digital Marketing Institute in Noida.
The soft skills of an individual don't change in digital marketing – communication, empathy, curiosity. While one has to learn more hard skills of digital marketing which can help them to succeed in the following areas : 
SEO full form is Search Engine Optimization and it is a process of taking steps to help a website or piece of content rank higher on any search engine.
Social media marketing is trying to sell a product by advertising on social networking or social media sites. As a social media marketer one can help individuals, companies to sell their products and services by generating prospective customers online through different Social media platforms.
This is another digital skill in comparison to social media marketing. Social media management marketers manages company's interactions with the audience on social media platforms with content marketing strategies.
PPC stands for pay per click which involves advertisers paying a certain amount of fee each time someone clicks their ads online.This digital marketing skill gives marketers the control to handle the data accurately by past history or can measure the effectiveness of advertisement by new data.
Email marketing is another digital marketing skill where you can target your audience in a personalized way and can increase sales at an affordable cost. 
2. Technical Skills
If you are looking for a new job, or want to expand your business, digital skills are the key to success. Technical skills will be a cherry on the cake as this can lead to higher productivity as technical skills can help you to perform everyday tasks easily by relying on different tools and processes.
Must learn digital technical skills in this era of digitization are :
If you possess technical mind skills, one must go for building softwares which could bring up some revolutionary changes.Coding skills in this category will be highly beneficial digital skills to asset your professional environment.
The best and very first step to become a Web Developer is to start learning web development fundamentals, including an understanding of HTML and XML.You can learn different languages like python too to build websites on CMS like WordPress. This digital skill is the base of any website.
Machine Learning & Artificial Intelligence 
Machine learning is the subset of Artificial intelligence, which is the science of algorithms of making machines specially intelligent computers. Learning engineering of science will make you skilled in automating tasks and advancing your system capabilities by delivering best business results and Insights.
Metaverse is a word or technique which became popular after the first season of Shark Tank India. Metaverse is an advanced technology of the digital world in which users can collaborate, interact and solve problems and can meet to fulfill the new opportunities. Many institutes have been opened who are providing the best courses to learn metaverse digital skills online.
Growth Hacking/ Growth Marketing 
Acquiring growth hacking skills will make you an individual helping businesses retaining an active user base, selling products/service, and gaining exposure. Learning growth hacking skill is not a goal , it's a process. Growth

hacking is not a goal, it is a process in which a person develops a growth mindset and helps you to always aim for the best and give your 100% .
3. Writing Skills
We often hear " Content is the king". It signifies we are using the content everywhere while communicating in any form -writing, speaking. Writing skills are one of the most popular digital skills which one must learn in 2022.
Content writing is the most in demand digital skill for 2022.It is a process of planning, writing and editing content combining the skills of SEO (discussed above). Learning SEO Content Writing Skills Is Easier Than You Think,you just have to be fluent with your ways of communicating thoughts while writing.
A copywriter is someone who writes messages for a business or organization, usually with the intent to sell or promote a product, service, or brand. As a copywriter, everyday learning and chances of doing something different increases.
By learning this digital skill, one can land upto high paying six figure in 2022.The future of copywriting skill is too bright as all businesses are moving online and needs to convince people for buying with great copies before even interacting in- person 
Why does it happen that even when you don't know a person but you can still understand their emotions through a resume?
It's the tone of your language you used in your resume.By learning professional resume writing digital skills you can convey your message with clarity and you can have the power to influence the receiver during the job process. 
Analysis skills
Obviously, identifying problems and opportunities is a big deal but learning to solve the solid problem is a prerequisite for good decision making in any situation. Thus, modern organizations and individuals would benefit by learning new digital skills and analytical ways to recognize opportunities and problems.
If you want to have a career in analytics and digital marketing, you need to know about Google analytics tools. Understanding Google analytics data as an analyst is an art and a skill of a logical and analytical mind. It is widely used across all the industries to read online data collection of web traffic.Google Data analysts skill can pay you between ₹ 2.6 Lakhs to ₹ 50 Lakhs per year.
A Data Scientist is responsible for compiling and analyzing large data of an organization. Data scientists combine their math, statistics, and computer science knowledge to extract useful information and then create business solutions. 
So, now every company wants to maximize its revenue and would like to  hire a Data Scientist to analyze its performance and provide decisions to maximize it. This has created a pressing need for hiring data scientists in the recent past.
4. Designing & Creativity skills
Research about creative process and decode the skills of being a designer as creativity is a digital skill that is useful not only for artists, designers, writers but even for digital marketers.
Graphic Designers bring together art and technology, with their innovative way of thinking and designing.To master graphics designing digital skill one should seek the knowledge of design principles combined with a mastery of various design softwares.
Next in trend and highly paid digital skill is photography.Demand for high quality HD Photographs has enhanced the value of the photographers. Regardless of the age, position you are working for, anybody can learn this digital & technical skill and this will be an add on in your resume.
Make a career in the field of video editing.With the mindset of a professional editor, one can easily acquire first-hand industry experience by working on varied motion picture formats.
The UI (User Interface) and UX (User experience) designers deal with color theory, product strategy, user research, animation and more. UI- UX designer works in a high pace learning environment. By learning this digital skill one has the opportunity to build designs or websites from scratch and could explore their capabilities to the best.
Future/Benefits of Learning digital skills
The nature of work and careers is changing fast – and in the future, the right skills will be prized over academic qualifications alone.More and more, it'll be about skills.Jobs are now more flexible as we discussed about the latest job trends in 2022 and beyond, above in this article.
Learning new skills to remain competitive is rooted as the most important way workers can future-proof themselves at the workplace or to their clients.
"Skills and not degrees will shape the future of work"
Jobs in demand for Digital Skills
Let's check some factual data presented by ITU Organization in "Digital Skills Insights 2021" about digital skills and job trends in upcoming years :
1)At the end of 2020, the European Union published a post-COVID-19 Digital Education Action Plan 2021–2027. The plan defines guiding principles and strategic priorities for digital education and includes actions that will be undertaken to address Digital Skills Insights 2021 and bridge the digital skills gap in the European Union.
2)A new study released by the International Finance Corporation (IFC) found that the high demand for digital skills will create 57 million jobs over the next decade and will result in the creation of about 114 million training opportunities across the five African countries they studied (IFC, 2021). This amounts to an estimated USD 11.1 billion in training opportunities through 2030, half of which are in reskilling existing workers and the other half in training the new workforce.
3)The World Economic Forum included the topic of digital skills as part of the Davos Agenda 2021. They highlighted, among other points, that for organizations to fully benefit from technology they must develop a digitally skilled workforce. They argue that in the future economy, human talent will become the most important factor of production. They identify four essentials to addressing the skills gap: equal access to education, training, inclusive Internet access, and committed leaders.
https://www.weforum.org/agenda/2021/01/building-a-future-ready-global-workforce-post-covid/
How freelancing can help after learning digital skills ?
Interested in going freelance? Are you a graduate or a college student?Are you wondering about how to make money? 
If you master any of the above sections of digital skills mentioned above,you will open the successful paths for your future. Also these skills can help you earn additionally irrespective of your full time job.
Become a Digital Marketing Pro with a Professional Certification
Most vital is digital literacy nowadays and digital marketers are the most popular as they help businesses find quality leads and convert them into paying customers. If you want to be a digital marketer, learn digital marketing from PIMS Digital marketing institute in Noida.
You can become a digital marketer pro with a professional certificate which will help you to gain and enhance your authorization at the professional level and will add value to your work.
On a parting note
In the end ,we would advise you to Leave behind the mindset of a 9-5 job, and learn digital skills for more financial stability.Public speaking is an evergreen skill apart from digital skills which directly helps to develop your brand and act as a lever for other soft and hard digital skills discussed in the article. 
Let us know in the comment section which digital skill are you planning to master in 2022? 
(More reference)