Promote a business using Google Ads in 2022
Entrepreneurship can be difficult, especially if your business isn't properly promoted. Your business will fail regardless of how great your product or service may be. Customers are bombarded with advertisements nowadays. How can you market your company effectively in this marketing jungle if you aren't interested in marketing? Google Ads is one option. Google Ads allows you to reach more people than you think. Google's vast data collection can be used to promote your business and help you grow it.
Online advertising allows you to display your ads to people most likely to be interested in your products or services while filtering out those who aren't. You can also track who clicked your ads. Online advertising allows you to reach potential clients using multiple devices, including desktops, laptops, and tablets.
What Are Google Ads?
Google Ads is a paid advertising platform that falls under a channel of marketing known by the name pay-per-click (PPC), which means that the user (the advertiser) pays per click or impression(CPM) for an ad. 
Google Ads is an effective method of bringing qualified visitors or suitable customers to your company when they're looking for similar products and services to yours. Through Google Ads, you can increase the number of visitors to your website, receive more phone calls, and increase the number of visits to your store.
Google Ads allows you to make and share ads that are well-timed (via both desktop and mobile) to your intended public. Your business will appear in the search engine pages (SERP) in the time your ideal customers are searching for services and products similar to yours on Google Search and Google Maps. This will allow you to reach your audience appropriately to see your advertisement.
As time passes, Google Ads will also assist you in analyzing and improving your ads to be more effective in reaching people, allowing your company to meet every one of your paid-for campaign objectives.
In addition, no matter how big your company is or the number of resources available, you can tailor your advertisements to fit your budget. Google Ads is a great tool to help you manage your budget, and the Google Ads tool allows you to keep within your monthly budget and can even stop or pause your advertising at any time. You easily learn everything about Google Adwords through various Google ads courses available online.
Let's consider a more important question: Are Google Ads efficient? To answer this question, let's take a look at some of the following statistics:
Google Ads has a click-through rate of almost 8 %.

Display ads generate 180 million impressions every month.

Those looking to buy, advertisements that are paid on Google receive more than 65% of the clicks.

43%of people purchase something that they've seen on the YouTube advertisement.
Why advertise on Google?
Google is the most popular search engine, with more than 5 billion queries per day. In addition, the Google Ads platform has been in operation for more than two decades, granting it some sway in the realm of paid ads.
Google is a tool that users use worldwide to post questions that can be answered using a mix of organic and paid ads results.
According to Google, the average amount of money advertisers earn is $8 per $1 they invest in Google Ads. Therefore, there are many reasons to think about advertising with Google.
Are you looking for a different reason? Your competition uses Google Ads (and they might even have bid on your branded terms). Many businesses utilize Google Ads to promote their business, so even if you're ranked organically for a particular search term, the results you're getting are moved down the page under your competition.
If you're using PPC to market your product or service, Google Ads should be included in your paid-for strategy, and you should definitely not avoid it.
Types Of Google Ad Campaigns
You can pick five different types of campaigns in Google Ads. We'll discuss the best to use and why you may pick one over the others.
Search Ad Campaigns
Search ads are text advertisements that are displayed within Google result pages. The advantage of using search ads is that they display your ads in the spot that most searchers go to in the first place — Google. Additionally, Google displays your advertisement in the same manner as the other results (except that it is marked as "Ad").
Responsive Search Ads
Responsive search advertisements allow users to create multiple versions of headlines and copy (15 and four variations respectively) to allow Google to choose the top results to show to its customers. When you create traditional ads, make only one static version of your advertisement with the identical headline and description each time. You can easily get all the knowledge related to responsive search by enrolling in an online google ads course offered by PIMS. 
Responsive advertisements allow for an ad with a dynamic format that's automatically tested until you get the most effective version appropriate to your intended audience for Google. This means that you have to wait until you receive the most clicks.
Display Ad Campaigns
Google is a global network of sites in different industries and with various viewers who choose to display Google Ads, which is also known as Google Display Network. The advantage for the website owner is that they are paid per click or impression of the advertisements. The benefit for the advertisers is they can place their ads to be seen by audiences that are matched to their target audience.
Video Ad Campaigns
Advertisements for videos are shown before or after (and often during) YouTube videos. Keep in mind that YouTube is also a search engine. Using the right keywords will put you on the front page of a YouTube video that disrupts users' behavior just enough to get their interest.
App Ad Campaigns
Google App Campaigns can promote your mobile app with an advertisement displayed in Google Search Network, YouTube, Google Play, Google Display Network, and more. Advertisements can invite users to download your application or perform certain actions in your application when they already use it.
In contrast to other types of ads, you cannot design an App advertising campaign. Instead, you provide Google with the information about your app and the audience and then place a bid.
Shopping Ad Campaigns
Another form that is part of Google Ad is Google Shopping Ad Campaigns. Like the other ads, shopping ads are shown on search results pages and provide details about the product, including price and images. You can create an online shopping campaign using Google Merchant Center, where you can input specific product details that Google uses to make your advertising for shopping.
Instead of promoting your company in general, Shopping Ads allow you to advertise specific items and specific product lines. This is why whenever you type in a specific item on Google, you'll see advertisements for various brands appearing on the top or sides.
The Benefits of Google Ads
Google Ads lets you take advantage of online advertising's benefits: Show your ads to the correct people at the right time, in the right places, and at all times. Google Ads has many benefits. Here are the main ones: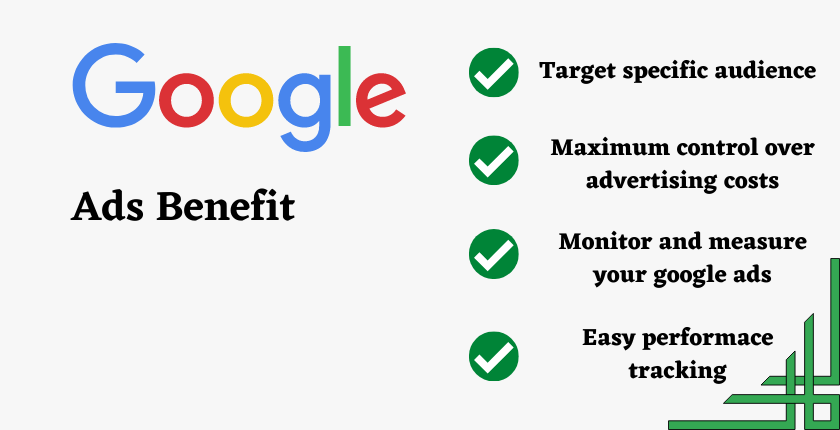 Target specific audience and devices
Targeting lets you target people who are interested in your products or services with relevant ads.
Google Ads allows you to target different audiences in many ways. Take a look at
 these options for online ads to make your marketing campaigns more targeted.
Keywords

 Ads that are relevant to your products or services will be shown to customers who search for them or visit the relevant websites.

Place your ads in

. Display your ads on Google Search results pages and websites that are part of the Google Search and Display Networks.

Language, age, and location:

 Select the language, age, and geographic location of your customers.

Times, days, and frequency:

 You can show your ads during specific hours or days of the week and decide how often they appear.

Devices

 You can have your ads on any device, and you can also fine-tune the devices that your ads appear on.
Maximum control over advertising costs
Google Ads allows you to control how your money is spent. There is no minimum. You can also choose how much you want to spend per month, per week, or per ad. Only click your ad, and you'll get paid.
Manage, monitor, and measure your google ads
Google Ads offers tools that make it easy to manage and monitor your accounts.
A My Client Center (MCC), manager account, is an excellent tool to save time if you manage multiple Google Ads accounts. You can view and manage all your Google Ads accounts in one place.
Google Ads Editor is a desktop application that lets you make quick and easy changes to your Google Ads account. Google Ads Editor allows you to download your account information and edit your campaigns offline. You can then upload your changes directly to Google Ads. Google Ads Editor can be used to view, manage and edit multiple accounts at once, move or copy items between campaigns and ad groups, undo and redo multiple modifications, and even create new campaigns.
Get all the insight about google Adwords through an online google ads course offered by PIMS in Noida.
Easy performance tracking
Google Ads will notify you if someone clicks on your ad. You can also track who clicked your ad, what they did, and whether or not they purchased your product, downloaded your application, or called your business. 
You can see which ads get clicked and which ones don't. This can help you increase your return on investment.
Other valuable data can be obtained, such as how much it costs to advertise that leads customers to make online purchases or calls. You can also use analytical tools for information about your customers' shopping habits, such as how long they spend researching your product before purchasing.
Learn Google Adwords
Looking for the Best Institute for Online Google Course in Noida? PIMS provides Digital Marketing training classes with live projects taught by experienced instructors in Noida. They offer a Google ads course in Noida that is explicitly designed for Under-Graduates, Students Graduating, Working Professionals, Graduates, and freelancers. They provide complete training on Digital Marketing Domain with deeper depths to help you build a winning career for each profile.