A Podcast is a new and trending way to convey your thoughts and ideas to a large number of people with or without any technical support. According to Wikipedia, A podcast is an episodic series of spoken word digital audio files that a user can download to a personal device for easy listening.
Streaming applications and podcasting services provide a convenient and integrated way to manage a personal consumption queue across many podcast sources and playback devices. Podcasting In India is consuming, spreading, and growing on a huge amount of Social media platforms
Here, we are going to tell you how you can start your podcast easily step by step.
Podcasting In India – Step-by-Step Guide
Decide Podcast Name & Niche
The first step is working on your podcast name and type. Make sure the name should not too long and a jawbreaker. It should be suited to your niche. There are various types of podcasts such as solo, interview, monologue, panel, fiction, non-fictional, and much more. The popular one is the interview. In this, you invite influencers and famous personalities to your talk show. You can take up any type of Podcasting In India depending on your convenience and interest area.
Podcast Cover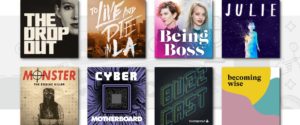 Once you decide on your niche your next step would be designing your podcast cover. For this, you
need a graphic designer or you can do this on your own with the help of some applications on the
internet such as Canva. Make sure, it is not tacky. It should be eye-catching and designed in
soft colors. Along with this, it should match your podcast niche. You need to podcast cover for
your channel as well as for your episodes.
Working on Podcast Equipment
You don't need much equipment for recording and uploading podcasts. You can do this with simple devices. It completely depends on your budget and how much you want to invest.
However, Some List of the tools recommended for podcasters to get better experience and quality are.
Microphone
A Computer/Laptop
Audio Editing Software
Portable XLR recorder
and Audio interface.
Some best microphones for recording podcasts are
Samson Q2U
ATR2100
Rode Smartlav+
Rode Podcaster/Procaster
Blue Yeti
MXL990
and Shure SM58
Recording & Structuring the Podcast
Next and the most prominent step is recording the podcast. This is the step where the plan came into action. This step will decide the success and failure of your channel. The podcast should be divided into 3 parts. First, the intro- where you introduce yourself, your partner, and the topic of your discussion to your audience.
Second, the body- consists of your main content. Third, the outro- the summary and conclusion of your discussion or your topic. Make sure everything is pre-planned and you execute everything flawlessly. Along with this, you should record your podcast in a calm and suitable environment.
Editing the Podcast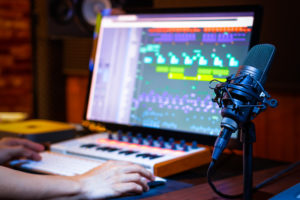 The next step is editing the podcast. Once you record the podcast your next step would be editing the podcast. This step involves fixing volume level, cleaning up, rearranging, cutting, pasting, etc. Initially, you may take time to edit the podcast but you will get used to it. If editing is not your cup of tea, then you can hire a freelance editor, who will edit your podcast in exchange for a reasonable amount of money. Some applications for editing software are pro tools, adobe audition, descript, audacity, and Garageband.
Uploading & Publishing the Podcast
Publishing your podcast is quite easy. You don't have to deal with any hassle in uploading your podcast. There are many Podcast Platforms In India where you can upload your podcast. The popular one is Spotify, Google Podcasts, and Soundcloud. All you have to do is open an account on these platforms and upload your podcast.
Promote your Podcast
Once you upload your podcasts in India, your further step would be brand exercising. You have to tell the people that you have started podcasting and invite them to listen to the same. You can ask your friends and family to promote your channel within their networks.
Also, you can create your Instagram and Facebook pages for your spreading your podcasting. However, you should more focus on your content than anything else.
Pranav Jha (Co-founder of PIMS) Featured in Piyushkukreja's Podcast
Many well-known podcasters include Serial, This American Life, Radiolab, The Daily, TED Talks Daily, S-Town, etc. Once you begin attracting the audience, you can earn a pretty amount from your podcasting through advertisement marketing, affiliated marketing, selling merchandising, promotions, etc. Initially, you have to focus on your content and everything else
will fall into the place.  Many people shut down their podcast channels after uploading 10-15 podcasts. But, if you want to ripe the benefits of your podcast you have to be constant and motivated.
The future of Podcasting is very bright and growing. The next big thing in the coming years is Podcasting. According to some online sources, more than 55% population listens to podcasts in America.
Most Asked Questions about Starting Podcasting in India in 2022

Is it easy podcasting in India?
Yes, it's quite easy to start podcasting and you can also choose podcasting as a career in India easily. It's easy because most people don't want to
Is it free to put a podcast on iTunes?
Podcast on iTunes is totally FREE. All you is to signup with a podcast hosting service. Some of them are free but have limitations like a maximum of 2 hours of podcasts per month, episodes are kept on hosting for max. 90 days. You can read more about podcast hosting services here,

Once you set up an account with podcast hosting, you need to set up Then you have to upload some episodes we suggest at least you should upload 3 or 4 episodes.

Also, Apple will give you detailed guide on how to setup your podcast on itunes. All you need an Apple ID, and we suggest to NOT use a personal Apple ID,but instead make a fresh apple account for podcasting.

How much does it cost to start a podcast on Spotify?
Spotify will be free for first two years, But after 2 years you need to select from spotify's monthly subscription which starting from $2.99, $4.99, or $7.99. but they will take 5 percent cut of podcaster's total subscription revenue.
Conclusion :
If you are interested in making a career in Social Media Marketing then you should definitely check out PIMS's Social Media Marketing Course. By the end of the year, India will have around 50+ million listeners and these digits are growing without any full stop. The main benefit of podcasting is that you can listen from anywhere and at any time irrespective of what you are doing or while driving the car as it doesn't distract you while driving the car.