Instagram recently rolled out its new feature called Guides which first came in the spotlight in May, when it was only available to selected associations & health experts for sharing content related to physical and mental health— including things like taking care of tension or sadness amid the COVID-19 pandemic, for instance.
The photo and video sharing platform is continuously bringing new features in their app for past 2 years to improve their user's experience. First stories then IGTV, reels and now guides.
Guides is a scrollable feed that consists of written content, photos, videos or carousels which enables us to share structured long-form content to provide more value to our followers. For now you can combine up to 30 posts from your feed or the ones you have saved into a Guide.
And a great thing is that even personal account users can use this new feature.
How Instagram Guides can be Game Changer?
This "Guides" feature was intended to give Instagram users an approach to share long-shape content on social media that had been, as of recently, centered more around media — like photographs and recordings. By correlation, an Instagram Guide looks more like a blog entry, as it could incorporate content joined by pictures, displays, and recordings to represent the topic being discussed.
This new feature will help in increasing user's time on the app since users wouldn't need to navigate to outside sites and online journals to get the information.
Guides have a committed tab on the profile section.
Just go to your profile section.
Click on the "+" sign which is right beside your username.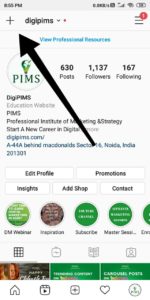 And there you have your guides option.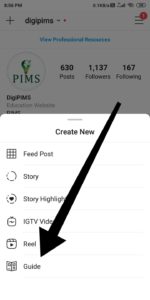 With this feature now Instagram not only wants to push content creators that entertain users but also want to promote educational and actually helpful content.
For Instance, one of the popular Fashion content creators in the fashion community – Rohit Chauhan shared a guide as a Look book.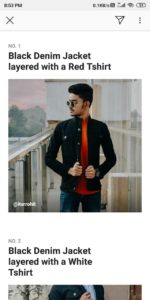 Imagine how content creators from different niches like cooking, Travel, Infotainment etc can use guides in their own creative way to benefit their audience. Guides are probably going to turn into a well-known approach to feature travel locations, as the new element can be an extraordinary device for flaunting wonderful photographs and recordings of spots, while likewise giving discourse and tips to the audience. This feature may even reduce the demand for news websites and blogs because of its similar features. Audience can share the Guides over their own Stories and in Direct Messages, growing their compass significantly further.
Instagram says it made the element simpler to utilize, as well. It might likewise include Product Guides inside its new shopping objective on the stage, Instagram Shop, the organization noted.
With Guides, the social media giant's objective is to avoid Instagram users from leaving the application.
Guides are not as effectively placed as the other Instagram's mainstream features. Guides inside the Shop tab is anything but difficult to track down. However, different Guides is not expected from Instagram. If Instagram needs to make Guides into a well-known component, it should consider putting resources into creating a separate area for Guides in the Explore tab – like IGTV. The Explore tab some of the time grandstands IGTV recordings, and there is likewise a part for clients to peruse a customized feed of IGTV content. Executing a comparable independent feature may draw in more serious users and, at last, can improve the relevancy of the platform for more users.
Internet & Technology is disrupting every industry, if you are considering making a career in Digital marketing, specifically Social Media Marketing then you should definitely check out our Social Media Course.
How Instagram is evolving
The development of Instagram throughout the most recent times mirrors the advancement of the whole web-based media scene during this time. Before all this time, Instagram was a runaway achievement or a little startup in the Apps store. The stage appeared to get an opportunity to rival big organizations.
Instagram Stories 
Notwithstanding the standard camera, Instagram has an exceptional camera that empowers users to record their Instagram Stories. This is a game-changing element that Instagram rolled out in 2016. Anyone that uses Instagram must have made a story or at least saw one.
IGTV 
The current Instagram application incorporates the IGTV feature. The company rolled out this in 2018. The IGTV substance can now be seen, and it's generally identified with the user's interests. Users can consume IGTV content by exploring the Search tab and afterward choosing IGTV.
Shoppable Posts 
After Facebook bought Instagram in 2012, new highlights were added to empower brands to utilize the stage with their list for the Facebook Marketplace. Shoppable Posts is one of these highlights. Using this component, brands can label posts with their item shots connecting to their Facebook Marketplace item posting.
At last, If there is anyone who will be getting the most benefit of Instagram guides then those are creators who are creating valuable & educational content on Instagram. It is going to be interesting to see how creators will be using guides in their own creative way.