YouTube is the biggest video-sharing platform used by people worldwide. Youtube started in February 2005, and three founders- Steve Chen, Chad Hurley, and Jawed Karim created YouTube. In November 2006, Google bought this website, and now it operates as a subordinate company of Google. This ultimate guide will help you on How to Earn Money from Youtube in India.
Using YouTube, people can share videos, clips, documentary films, blogs, educational videos, etc. Usually, individuals upload the videos via their channels, but there are media corporations as well that are part of YouTube partnership programs.
The users who wish to upload videos create their channel, and if they can connect to the audience, they become famous. When the public likes the content of any channel, they subscribe to it. The more the number of subscribers, the higher is the chance of earning money.
However, every individual doesn't need a million subscribers to make money. It is estimated that different niches and countries have variable CPC, so for viral niches in India in Entertainment; pay for 1000 views on Youtube shall be 10 cents to 20 cents.
Earning money also depends on the type of content they upload, how engaging it is, and how they explore the revenue channels. YouTube is successful because it provides new content every day. So it is crucial to be active to earn subscribers.
Before earning money from YouTube, it is vital to keep the following factor in mind.
The target audience
It is critical to know the audience any individual wants to attract before uploading the videos. They need to find their niche and then decide what age groups will find that content interesting.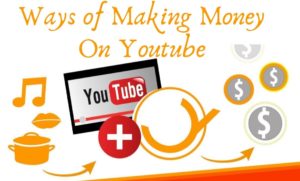 Ways to earn money from YouTube
Creating the channel
The first and foremost step is creating a YouTube channel. People have to create a YouTube account to upload the videos so that the audience can view them. Here is a link that contains step by step information on creating a YouTube channel- https://blog.hubspot.com/marketing/how-to-create-a-youtube-channel
Choose the category
The next step is deciding the type of content we want to upload, which we can also term as niche. It is better to choose a category we are comfortable with, as our interests, hobbies, or passion. In that way, we will get a lot of ideas to create better content for the channel. Here are some examples to decide on a category.
1. Dancing
There are thousands of people out there who love dancing and want to showcase their talent to the world. It can be a solo dancing channel or a group. That depends on the channel of the individual. Matt Steffanina- Hip hop dance channel is one of the top-ranking YouTube channels right now. The channel has 11.1 million subscribers and counting.
https://www.youtube.com/user/MattSDance
2. Makeup
Makeup is one category that is currently trending globally. Makeup enthusiasts post videos on creating new looks, makeup hauls, trying on new products, and reviewing them to earn money from youtube. There are many makeup vloggers out there on YouTube. Denitslava Makeup is one popular YouTube channel. Currently, she has 2.21 million subscribers.
https://www.youtube.com/channel/UCXoY0ZeHZBe0p-ByCiYP_XQ
3. Singing
Creating a channel to showcase the talent for singing is a great option. In this way, millions of people around the world will get to know how talented someone is, and they might get many opportunities in the process. Sanam Puri is a prevalent Indian artist on YouTube. He started his journey by uploading small videos and now, and now he is hugely successful with 6.49 million subscribers.
https://www.youtube.com/user/SQSProject
4. Food blogging
Food blogging has become increasingly familiar with passing days. The bloggers try out different restaurants and review their food, post recipes and try out new challenges. Tasty is a YouTube channel with a massive 16.1 million subscribers. They post food videos, a compilation of different recipes, and chefs trying out challenges.
https://www.youtube.com/channel/UCJFp8uSYCjXOMnkUyb3CQ3Q/about
There are also other categories about pets, education, fashion, comedy, etc. which people can choose.
5. Tech
Tech is a very broad niche and there is a lot of scope of earning out of it. In tech, you can cover various softwares, Online Tools, How-to-do topics, Product/Service Reviews, Error/Problem resolution and much more. Tech is also one of the highest-paid niche if you have decent amount of viewership.
The next step is to come up with content that has the potential to grab the attention of the audience. The famous YouTubers out there are growing every day because they come up with new strategies to make videos that can go viral. The audience needs change; They do not like watching the same repetitive content. To start earning money, the users need to upload good, eye-catching content.
Apply for AdSense
The next step is to become a YouTube partner. The users can do this easily by clicking on the Channel menu and enabling the monetization button. After reading through the terms and conditions, they need to click on 'I Agree'. Then the users need to apply for AdSense.
Once they get the approval, they will need to see ad revenue reports through their AdSense account. But earning money through ad revenue is not the most stable option.
YouTube tools
Next, the user needs to use some vital YouTube tools. These tools help to create better YouTube videos and earn money from youtube. Here are a few examples-
Keyword io
The first primary step is to search for the correct keywords. This powerful tool ranks the keywords in terms of popularity. It collects information from YouTube autocomplete and will help to identify the most trending keywords.
Camtasia
This tool helps in screen recording and video editing. It enhances the content in a very professional way. If in a channel, we need to explain something to do on a computer, this tool is the best option for that. It can help to record, edit the video and even add effects. They can also add arrows or notes to guide the audience in a better way.
Woobox
This is a great tool to promote our YouTube content via other social media platforms. Our Facebook friends can view YouTube videos directly through Facebook. They do not need to visit our channel on YouTube to view our content and its an excellent method to gain subscribers too.
 Pixlr
Pixlr is one of the best photo editing apps. After uploading a picture, we can use this tool to apply edits like zoom and different colour palettes to adjust the color of a photograph. It takes very little time to upload the image after editing, and the software is very flexible.
It is essential to install some good text-to-speech apps for creating YouTube videos. Other than hearing or watching, several audiences will come forward if they understand the video too.  
How Much You Can Earn Through YouTube Videos
 On average you can expect to earn $300-$2000 from ads for a YouTube video with about 1 million views. This wide range of numbers, however, is justified and determined through a great number of variables that you can manage depending on how you work with YouTube.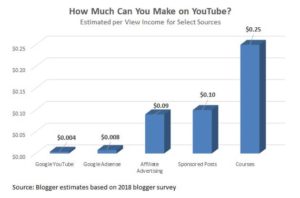 Following are the Ways You Can Earn more without Adsense
Monetizing the video
The ultimate step is to monetize the video. The trending YouTubers make lakhs of rupees per video and its vital to know the tactics. Here are a few ways to monetize the videos-
1. Advertisement
Advertisement is the easiest way to earn money. The people with channels can make average money of $2 per thousand views. Depending on the niche you make videos on, you can even earn more than $2 per thousand views.
2. Selling merchandise
People can showcase their stores on their channels and the audience can buy products from their stores. It is an excellent way to promote the brand and earn money.
3. Fan funding
If the channel has a good project that interests the audience, they will donate money for the execution of the project. So that is the right way of earning money to create unique projects.
4. Work with brands
Affiliate marketing is another term for this topic. There are big brands that have a strong fanbase. If we join them as partners and promote their brand by including their product links on our channel, we can make a good amount of money for every purchase. If you have built an audience that trusts you then you can even charge in 6 figures on having 100k or above subscribers.
5. Affiliate Marketing
In affiliate videos, you can sell the products in your videos like if you are using an Airpod you can promote it an as well as sell it, in similar ways you can sell cameras, Cell phones, etc.
These are a few steps on How to Earn Money from Youtube in India.
6. Promote Your Own Product/Service
In 2021, there are a lot of YouTubers who have created successful businesses with the help of Youtube. You can start a channel in the niche in which are already running a business or you can build a youtube channel and afterward start a business related to the niche on which you have your youtube channel.
Final Suggestions
Earning money online with YouTube video views is just not the limit YouTube allows you to do much more. It is about creating content that a wide variety of people will enjoy looking at.
When we consider money, it is more about making money for something we love to do. YouTube allows being creative and following our passion in this era of creative millennials.
At PIMS – Professional Institute of Marketing & Strategy we teach step by step how to use Video Marketing & Youtube to grow and learn Complete Digital marketing at our institute. Take a look!