There was a time when searching on laptops and desktops used to have a dominant share in the market. But with a high increase in the use of handheld smartphone's Mobile Searches surpassed the desktop searches in 2015 only. Newer technologies using Machine learning and artificial intelligence are enhancing the features of almost every electronic products swiftly. Voice search optimization is one of the methods that has shown a remarkable turnaround in the shortest time possible.
Search engines on an average carry 6 Billion Searches on a daily basis with 20% of these attributed to Voice searching. This trend is about to rise with the increased use of Home-based personal assistants, speakers and wearable technologies in the nearby future.
What is Voice Search Optimization?
Voice Search is the latest technological addition in electronic devices of the handheld smartphone's where consumers can search just by speaking into a device. Smartphone's Laptops, Home assistant devices, speakers and wearable technologies offer this voice recognition feature where customers can directly speak for a search query rather than typing it in the browser. Voice Searches are quicker, faster and get precise results too. Voice Search is expected to hold the maximum searches in the coming future by saving time and offering more enhanced solutions to the user respectively.
With the new modern age of Digital Marketing, it becomes necessary to understand Voice Search optimization and include right strategies in their SEO to get the desired effect. These technologies are quite new and require a lot of expert understanding. For new beginners, it is necessary to take small steps towards your goals and mix experience with learning to have profound expertise.
How Voice Search Is Used Today?
People now prefer to use mobile personal assistants in their daily activities. These virtual assistants have now become the driving force of modern age with Siri (Apple), Google Now (Google), Alexa (Amazon) and Cortana (Microsoft) leading in this technology. All the top IT companies have their own voice understand algorithms that can interpret human interaction for solving effective queries.
For example – finding a new restaurant to eat, unknown places to drive with GPS, scheduling your activities, searching for answers, listen to the preferable choice of songs and many more.
These devices are programmed to manage your personal needs and find the solutions to match your needs perfectly. Most of these spoken words will be auto-corrected by the Virtual assistants to answer the right solutions. So as a digital marketing profession, you have to make the right strategies to get your landing pages in the top to get user attention more efficiently.
Voice search is being used rapidly nowadays as it essentially allows users to speak into a device as opposed to typing keywords into a search query to generate results. Audio technology uses speech recognition to understand what users are saying with extreme precision. It then delivers results orally to the users.

Tips for Voice Search Optimization
Impact on Your Business Through Voice Search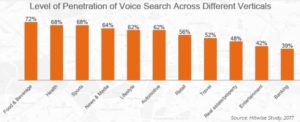 Here are some important tips that you must use for Voice Search Optimization.
Strategise Content:
The first step is to understand Voice search and how people search for things i.e, natural way of talking. Adding questions like the statement in your content will prompt the search engine for long-tail question queries.
Mobile Searches should be primarily focused with the use of interrogative words "when", "what", "who", "how" keeping intent of the user the primary for getting inside top voice search-based results. Still, it is recommended to optimize content for all types of searches from desktop, mobile, and voice to get more attention from search engines.
People will often search for Frequently Asked Questions(FAQ) related to their main topic. So adding a small FAQ will get more attention from the Search engines. These questions and answers are optimized to offer better solutions for internet users. Long-tail keywords are most often targeted using FAQ for making content more information to the users and Search engines respectively.
For example, a landing Course page for Data learning should have FAQ's like:
 What is the duration of the Data Learning course?
 What is the fee structure for Data Learning Course?
When are timings for Data Learning Course?
How to apply for Data Learning Course?
Localization:
Another major factor that vocal Searches take into account is your Google Business profile. It must be filled with proficient description, business timing, address, name, map location and phone number to keep user connecting for your resources. Local schema helps search engine place your website for queries related to your location.
For e.g, A Search for "Home Appliance repairs in Sector 31 Gurgaon" will prioritize based on the location proximity, reviews, domain authority (DA) and page authority (PA) of the specific domain.
Informative Content is still one of the main fundamentals for ranking higher. When writing user intent should be the focus of voice-related searches. Content should talk to the queries in offering the right solutions for higher priority in Search engines.
Identifying the long-tail keywords for your main topic. Users most often use long sentences in voice search and optimizing content for these long-tail keywords will drive voice search traffic to your site.
All technical SEO details are still intact and must be followed to get listed in the top results. Title, Meta Descriptions, Image alt tags, Highlighting texts, structured markups, and all on-page values still matter.
Accessibility Standards must be followed by effective guidelines. The proper HTML structure is the foremost priority to get pages indexed properly on the search engines.
Understand the Search queries and try to include simple terms that answer the issues rather than making long or complex.
Websites need to be quick to load and mobile-friendly to offer a uniform experience over multiple platforms.
How to Optimize Sites for Voice Search?
Even Major Search Google is now using mobile-first index rule to check the website mobile version first then desktop version speaks highly the importance of smartphones users. Voice search is available from both desktop and mobile users but more preferably from the latter one. Digital marketing profession needs to understand this Voice search and offer their suggestion for attracting voice search traffic to online platforms.
One has to conversational in content to find the right words that attach more meaning to the context. As the Voice users will often ask for questions in their queries so Google and Search engines look for content that offers a solution to it eventually. Grammatical correctness, length, and objective of the content are the main things to keep in mind while optimizing sites for Voice search.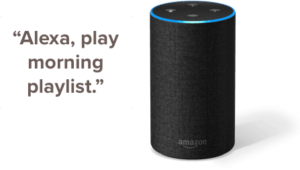 Most often people will go on to the Search engine to find precise and accurate information.
Like restaurants near me, ATM's near me, etc.
or
iPhone users might ask, Siri "How is the weather today?"
& they will get the answer from based on the algorithm who interprets is by searching the internet only.
These machine-made programs must also be part of your SEO strategy. Google RankBrain the machine learning AI(Artificial Intelligence) system is now the third important ranking factor with the company accepting it publicly that affects the ranking of websites for top Search Engine results page(SERP).
How PIMS is helping students in learning voice search optimization?
At PIMS we understand that Digital Marketing is still evolving with newer technologies almost every year. Share of voice search has improved remarkably in the last few years with a huge increase in the use of handheld devices. Our instructors and trainers are highly experienced in giving students live example of these voice search-based results. Live examples and practical training are given along with a theoretical approach so learners can understand better.
For Example:
You can ask questions directly about a specific place like
"Where is Taj Mahal?" and it will show the results with Taj Mahal at the main location.
Any similar question like weather, direction, pin code or nearby ATM will be answered accordingly. Even commercial answers like Men's Shoes or Women's Apparel have a lot of high searches now. This allows businesses to quickly connect with their users and offer them comprehensive solutions directly rather than writing long words.
Voice Search is truly a unique invention that has eased the efforts of human involvement in searching on online platforms or home-based activities. At PIMS digital marketing learning platform we believe in giving students thorough information to carry forward in their progressive career. With the demand for electronic devices going higher every year this voice search shows us the glimpse of future technologies.