That's being said google never informs about the upcoming broad core algorithmic update which is about to happen however this is the second time in a row Danny Sullivan (Twitter Handle @searchliaison) mentioned in a tweet that they released a broad core algorithm update yesterday on 24th September 2019.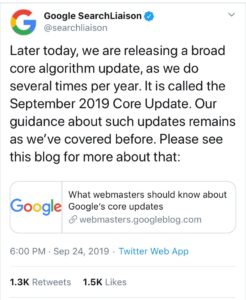 Danny named it "September 2019 Core Update" where as usual they never mentioned clearly what is about to change in this update.
As per Danny the core update will begin within hours and will take a few days to complete successfully.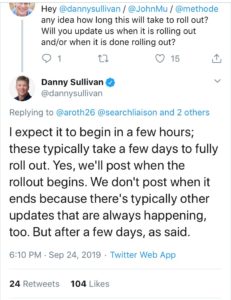 As Google never say this in advance but this is the second time in a row they clearly stated about their plans.
Well, what is going to change is still a mystery to all as these are few things to take in action to safeguard your sites.
Noticeable effects may happen in case of rising and falling of traffic suddenly.
Make sure the pages that missed their rankings are not penalized but shuffled from their last positions based on the previous core update.
Google is more overlooking to fresh and updated content with the trust factor towards users from webmaster's side. So more sites writing fresh content are going to replace the existing old content-based websites.
These core updates don't target any specific thing to be improved as they improve the overall algorithmic structure for making a room to better sites and content in SERP's.
As the updates are frequent in a year or so, then the only way to be safe is using good quality intent satisfying content with natural link building processes.
Improvement in traffic doesn't guarantee penalty recovery as per google but no actions can surely guarantee no recovery at all.
What do you suggest on this September 2019 Core update? What did your study say?
Tell us in Comments Section Below!