Certified video editing course - cVEC program

 4.7 out of 5 based on 1047 ratings
Diploma in video editing Course Training
6+2 advance modules of video editing
6 Live Projects based Training
4-6 Months Duration
2000 Advertising Credit
Tools Worth Rs. 70,000+ Free
3 Month Internship Assistance
Entrepreneurship & Interview Preparation
Senior Level Training for Personality development
PIMS certification of video editing
Small Batches (Less than 12 per class)
Fee 35k ( Inc. GST )
10 yrs+ Expert Trainer Experience
Dedicated 5 Trainers for Specialisation
Lifetime Support
Easy Backup Classes
Regular Events & Additional Workshops
8 Google Certifications
1 Facebook Blueprint Certification Preparation
Bing Certification
Assessment Certifications after each module
Valued PIMS Certification
Certifications Accepted Worldwide
PIMS GetHired™
100% Placement Assistance!
Call: +91 78400 44401
Trained 2143+ Students in Classroom programs
Check Course Syllabus, Fees & Eligibility details
Course structure and details
video editing course Syllabus
In our digital marketing training, we supply 36 modules. We have split the internet marketing training into 28 sections. Our digital marketing course is designed exclusively for beginners & amateurs in the field of Internet marketing.
You will discover that we introduce basic elements of video editing in the first module itself like-
What is video editing?
Concepts of video
How many types of video editing are there?
Process of video editing
Scope of video editing
Video editing Principle and techniques
An in-depth look into the artistic and aesthetic methods and practices of editing in case of both audio and picture
All about layers panel and strokes
Appearance panel
Artboard tool and settings
Blend tool
Color and pattern swatches, custom brushes
D in Illustrator
Dashboard setup and direct selection tool
Envelope Distort, image trace, live paint
Introduction to Adobe Illustrator
Gradients, scale, shear, reshape and free
Mesh tool and path menu
Pen tool and shape builder
Perspective grid
Rotate tool + wristwatch illustration
Selection tool, transform tools, type tool
Transform panel and transform each
Types of masks and typography
Introduction to Premiere pro cc
Video details and project window
source window and videos
New sequence and timeline
selection and track selection tools
Ripple and rolling edit tools
Rate stretch tool
razor tool and triple delete
slip and slide tools
Transitions and motion controls
Animate layers with keyframes
Pen tool, masking, duplicate, and type tool
Rolling credits and crawling text
Legacy title
Exporting videos and compressing large videos without losing it
Adjustment layers and hiding face in videos
Synchronizing audio, leaving color, fake Pan and zoom in Adobe Premiere Pro, and many more.
Basic selections
Black and white with color
Blur, sharpen and smudge tools
Brush tool and clipping mask
Clone stamp tool
Content-aware fill and move tool
Crop tool
Dashboard setup
Deal with scratch Disk full error
Dodge, burn, sponge, and eraser tools
Face aware liquify
Gradients and healing tools
History panel and history brush
Layer mask and blending options
Layers panel and patterns
Seamless texture in Adobe Photoshop
Pen tool and Path
Puppet for perspective warp
Stroke On Path
vanishing point filter
Vector shapes and smart objects
Introduction to After Effects cc
Workspace and Panels
Projects and composition in AE
Pre-composition, nesting, and prerending
Import footage and project panel
Footage panel, consolidate, reduce
Proxy footage and Palace holder
Layer types, creating, arranging, moving
Trimming, splitting, lifting, extracting in AE
Managing layers with switch
Layer properties, anchor point, scale
Parent-child relationship between players
Blending modes and layer styles
D cube in After Effects
How to use a camera layer?
Understanding parallel, spot, and point
Light layer
Cast shadow and material options
Animation and keyframe basics
Motion path in Adobe after effects
Horror camera shake effect with wiggler
Null objects and guide layers
Setting and selecting keyframes
Importance of the Video Editing course In Delhi, Noida
Before joining our Institute, we want to let you know how video editing is a necessary process. Just like a shot can be ruined without a good cameraman, the absence of a video editor can result in a complete mess. Every aspect of video production is necessary to come together to form a Masterpiece. As an editor, we help to make you understand how you can bring a flow to any video and make it look smooth sailing. At PIMS, we also help you understand the importance of timing and cuts. Because if you cut it too soon, the video will end abruptly and will be unexpected for the audience. And if you cut it too late, you will have a shot which seems to drag on for too long.
Another important aspect of video editing is matching the audio clips with the video. This process is not easy either and requires a lot of patience and knowledge of tools. At PIMS, we will provide every training needed for you to get ready to get into the professional world.
Through our course, you will definitely learn the basic knowledge of the software that is used in video editing. You will have advanced knowledge on different topics like keyframe animation, color correction, color grading, speed modulation, advanced use of effects, and more. At the end of the course, we will make sure that you are a pro in the field.
Get Updates about Fees, Modules, Duration by Filling Form
Know more about our Cideo editing course institute
Why choose PIMS for a video editing course?
We help you to become specialist in video editing course and secure an excellent job in that field. PIMS helps you to build a solid foundation in video editing and become a certified expert in 4 to 6 months. Our live projects our portfolio worthy and maintains the standard of the Global curriculum. This career choice is exciting, but taking it to the next level needs an ample amount of knowledge. Being a video editor isn't something that happens overnight. However, if you choose the right Institute, the process can be made much simpler even after covering the course in detail.
The students need to be willing and dedicated to learn the course and produce innovative ideas. After the completion of the course, we guarantee you that you will find excellent career options. Video editing is basically the process of getting a video clip or multiple clips and modifying them to create a new media. You will have to manipulate and rearrange the video to create a new stunning output. Video editing is much more than just removing the unwanted portions from a clip. It is much more complicated than that. For example, in the case of big-budget Motion Pictures, tying together all the elements like images, audio, and more needs thousands of hours of effort and tons of money.
The options of video editing software available in the market are unlimited. While some are free, some can be quite expensive. The advantages of Editing digital video depends on the availability of technology. Another advantage is the ability to improve the light and sound issues that cannot be avoided. Noida is ranked as one of the best cities in Uttar Pradesh. It is also the home for companies offering IT services in multiple domains. We have chosen this location because it can increase the amount of skilled workforce.
Here is why professional Institute of marketing and Technology is one of the best institutes to pursue video editing course-
If you want to be successful in your profession, the video editing course must prepare you for the industry. And for this to happen, you need to apply for training at the correct Institute to get the maximum exposure. Our professional course includes internships, seminars, presentations, and more so that the students can get the right amount of exposure. There are some factors during the training that might appear to be hard. But the students can ace it if they are confident and are willing to work hard.
Know more about our Cideo editing course institute
Why choose PIMS for a video editing course?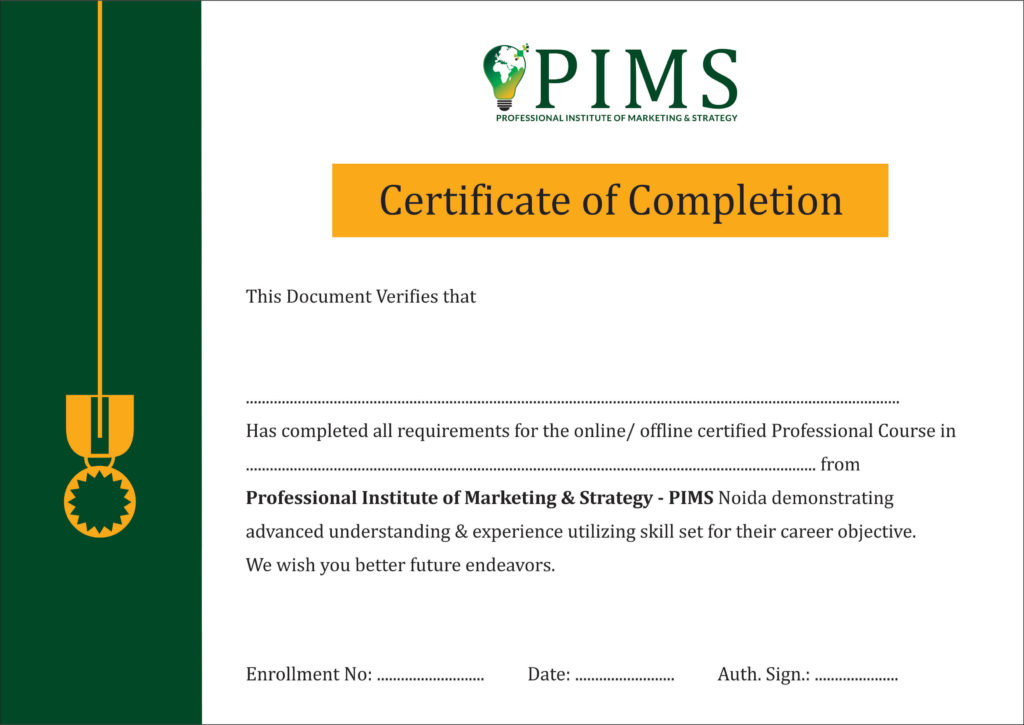 Video Editing Course Eligibility - PIMS
To apply for the course, the candidate must have passed 12th from a recognized board. But this course is such that any candidate can do this while pursuing their regular degree. The journey is fierce, and you need to have necessary computer technical skillset to set your foot into the industry. If you are a video editing aspirant, it is essential to have skills and a little exposure in basic computer technical knowledge. It is not required for the candidates to have a marketing, IT, or commerce background. We recommend you to join PIMS because we just do not concentrate on the basics, but we will gradually take you through the different advanced concepts along with practical projects training.
the career scope after the completion of the course
After completing the video editing training course, we make sure that the students are capable of securing an excellent package as a fresher. They also get the scope of beginning their career in the field of video editing. Video editing is one of the best career opportunities out there. Every company wants to be globally present now to reach the audience better. Video is one of those mediums. The demand for video production services, promotional, commercial, documentary, and educational films is high to perform post-production activities.
The students just need to have the discipline and the will to work hard to be successful in this field. Additionally, they will need a video editing certificate, good knowledge about video editing, a creative mind to develop ideas, and the quest for learning. Also, several job profiles are available after completing the video editing course. Some of them are-
FAQ's for Video editing course
The duration of the course can be between 4 to 6 months. It also depends upon the type of training program a candidate wants to choose.
Yes, the trainers at PIMS are highly qualified and have extensive industry experience.
The career opportunities in this field are unlimited. You can apply to be a video editor, video editing manager, get into movie productions, and many more.
You must have completed your 12th standard. Also, it is better if who have basic technical knowledge of computer and internet surfing.
We know the candidates always look for a course that is short yet effective. And it's hard to find the best Institute among a plethora of options. We are here to help you out in that matter. We assure you that PIMS is one of the best Institutes in Noida to opt for a video editing course. Along with our trusted certification, our faculty members are highly qualified with excellent knowledge. Our syllabus is continuously updated to match the latest requirements in the industry of video editing. We also provide 100% placement assistance and career guidance for free of cost. Our course is specially designed for students who want to build a career in this field.
We have an excellent placement record and an established position for several years in the industry. So, hurry up and be a part of the PIMS family and sign up for the video editing  training course as soon as possible. We hope to see you soon.
Professional Institute of Marketing & Strategy-Best Institute for Digital Marketing Course in Noida,delhi,NCR. PIMS(Professional Institute of Marketing & Strategy) is a great learning platform for students, entrepreneurs and based at Sector 16, Noida.
For the past several years, PIMS has defined its leadership position in the education industry and helped students in learn SEO, Google Ads, Facebook ads and around 32+ more modules of digital marketing
Noida | Greater Noida | South Extension | West Delhi | New Delhi | Ghaziabad | Indirapuram | Cannaught Place CP | Laxmi Nagar | Vikaspuri | Janakpuri | Gurgaon | Pitampura | Rohini | Nirman Vihar | Rajouri Garden | Dwarka | Rajendra Place
Copyright 2019-20 | All Rights Reserved.