Digital Marketing & WordPress Summer Internship in Noida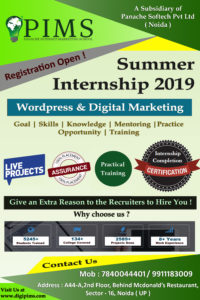 About Summer Internship 2019:
As you know Digital Marketing is the future of Marketing and Digital marketing is the Biggest Marketplace. Panache Softech Pvt Ltd is a Leading Digital Marketing Agency in Noida and Delhi NCR. We also provides Summer Internship in Digital Marketing and trusted certification. Currently Digital Marketing is the Latest and Largest Job Provider over the world.
Summer Internship Includes:
Live Projects
Practical Training
Website Design & Development in WordPress
SEO & Advanced SEO Practical Approach
Social Media Marketing
Email Marketing ( Campaign Designing & Bulk Mailing )
Mobile Marketing
Lead Generation for different Businesses.
PDP Sessions & Interview Preparation
Internship Fee: 15000-20000 Rs.
Time Duration: 4/6/8 weeks.
What You will get after Internship Completion?
You will get Internship Completion Certificate by Panache Softech Pvt Ltd, Noida.
Completion Certificate of Diploma in Internet Marketing.
Completed Live Project done by you.
Trusted Google Certification.
About Panache Softech Pvt Ltd:
Panache Softech PVT LTD is one of the best Digital Marketing & IT services provider firm in India. We strive to produce practical solutions to the real world problem of professionals and business. Panache Softech Pvt. Ltd is a start up Company but growing rapidly and mainly works on innovative Ideas. We strive to produce practical solutions to the real world problem of professionals and business. We're continually in need of high-quality, dedicated people who want to be part of an ever growing organization. We also give the chance to College interns to Show his passion and share his innovative ideas with us. Our Company have young and Experienced talent that will help you to learn more and more.We welcome to all interns who want to work with us.

Why It's right time to learn Digital Marketing?
15 years ago there was boom of B.Tech & MBA, now it's Digital Marketing.
There is no Crowd in this field currently.
Companies are looking Digital marketing Expert to Promote Online.
No any University has Introduced Digital marketing seriously yet.
Currently, Market has very few Experts in digital marketing.
There are already many Online Startups in every field.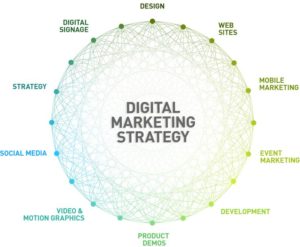 Who should Join this Digital Marketing Era?
MBA , B.Tech , Graduates who are searching for jobs or anyone who wants to earn as a part time Freelancer & understand the Digital Marketing Concepts Like :-
Students
IT Professional
Marketing Persons
Entrepreneurs
About our Internal Consultancy – Being Hired?
A different kind of consulting company Beinghired was founded in 2017 with a vision of helping our clients interests and to create value through our knowledge as one of the best job consultancy in Noida.
We, at Beinghired believe we are company for the people, of the people and from the people. We believe in the empowerment of people and in creating leaders from employees, and help companies soar in their businesses.
We pride ourselves in our organizational skills and extensive knowledge in the IT & Digital Marketing sector. We want our clients to feel secure with us, our employees to feel there is growth. We just want to grow together.
Our Tie-Up with Companies for Recruitments:
We have Tie-up with more than 30+ companies for the Recruitments of Digital Marketing Candidates Like :-
ABC Word Media Pvt Ltd
Page Traffic Wen-Tech Pvt Ltd
New Vision Digital Pvt Ltd.
inTarvo Technologies
Polyvalent Digital Services
Aryson Technologies
Webisdom Technologies
Aadya Infotech Pvt Ltd.
Advancells Digital Services etc…
Our Subsidaries: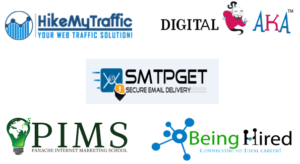 Contact Us:
Panache Internet Marketing School
A-44A,Behind mcdonald's restaurant,Near sec-16 Metro,Noida,
Uttar Pradesh 201301 Ph. No-9911183009,7840044420
Pay with PayuMoney